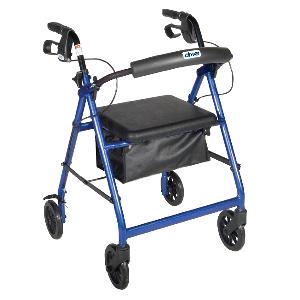 More Information on the Go-Lite w/6" Wheels
BACK TO TOP
Reviews
Viewing 1 - 10 of 10
Go-Lite w/6" Wheels: Review
02/19/2017
Reviewer:
andrea g. from long beach, ny
User Details:
Not provided
I guess I should have tried this in person before ordering.
07/29/2015
Strengths:
The locking brakes are good, the wheels too.
Weaknesses:
Clumsy to me. I don't know how to use it. If I go somewhere, I wouldn't know where to put it. The plain walker can stand next to a wall or table and be out of the way.
Reviewer:
georgia a. from farmington, nm
User Details:
I had back surgery four years ago and have bot been able to walk without the use of a walker. This rolling walker seems a bit big
Go-Lite w/6" Wheels: Review
11/01/2014
Weaknesses:
Difficulty putting in and out of the trunk. There is no way to lock the legs together and it separates as you lift it. Also, we found the brakes by accident. I do not remember seeing instructions. We also were able to tell someone else that there were brakes!
Reviewer:
deborah n. from las vegas, nv
User Details:
Not provided
Go-Lite w/6" Wheels: Review
10/14/2013
Strengths:
Price, brakes, color
Weaknesses:
Heavy, does not collapse well, takes up a bit of space
Reviewer:
robert s. from beaufort, sc (caregiver)
User Details:
Not provided
Poor brake. Needs too much pressure to make them work
05/03/2013
Weaknesses:
Brake adjustment is difficult. Can't seem to adjust to make them easier to pull.
Reviewer:
linda l. l. from olympia, wa
Go-Lite w/6" Wheels: Review
11/28/2012
Reviewer:
jackie c. from odessa, tx
User Details:
Not provided
Go-Lite w/6" Wheels: Review
03/17/2010
Strengths:
ease of manipulation ability to handle locks when not in use
Weaknesses:
have only used it one time and it was perfect for my bus trip to a local casino
Reviewer:
myra m. from lakeland, fl
User Details:
79 kidney cancer, high blood pressure, unable to walk long distances and time period
would recommend for specific use
02/07/2009
Strengths:
Good brakes, width of walker
Weaknesses:
It is lighter than I expected, the wheels are small and are difficult to navagate over rugs & certain terrains, the seat & pouch are poor quality
Reviewer:
james g. from lincoln, ne (caregiver)
User Details:
64 years old, has MS and is unable to walk, we purchased it to use for transfering
Go-Lite w/6" Wheels: Review
12/29/2008
Reviewer:
orlando m. from raeford, nc
User Details:
I'm amputee. I can't walk long periods w/o resting. Excellent product.
03/19/2008
Strengths:
light, attractive
Weaknesses:
basket was much smaller than the one in the picture, and brakes don't work.
Reviewer:
carol v. from dallas, tx (caregiver)
User Details:
Not provided
Popular Related Products