Victory 10 3-Wheel
IN STOCK! A sturdy and reliable ride with up to 16 miles per charge.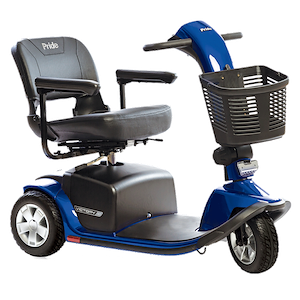 More Information on the Victory 10 3-Wheel
BACK TO TOP
Reviews
Viewing 1 - 5 of 5
04/22/2021
Strengths:
Good battery life, nice colors
Weaknesses:
Not enough room for feet to seing by tiller. Even with seat all back, shroud around tiller base leaves no room.
Reviewer:
james b. from branson west, mo
User Details:
73 year old, disabled vet. Love the freedom of the scooter, it is one of many I have owned.I only have one major dislike.....not able to get my feet
Needs a re-think. Most 'improvements' in the past 10 years...
02/04/2019
Strengths:
It's quiet. It seems reasonably sturdy. It works most of the time. Looks great!
Weaknesses:
Battery indicator on the Tiller is too bright. Squeals if I activate the control lever too soon. Who thought this would be a good idea? Squeal should be disabled or made less annoying. On the other hand, the "horn" is not nearly loud enough to be useful. Actually, a bicycle bell would be more effective.
Reviewer:
david b. from hurricane, ut
User Details:
Not provided
Have used 6 scooters and 2 power wheelchairs over the...
04/09/2018
Weaknesses:
The scooter could use some more torque - it pauses when you want it to go, handles poorly, and while it has sufficient power to climb any variance in climbing speed causes it to jerk to a stop. I have gotten very frustrated using this scooter recently.
Reviewer:
william d. from north potomac, md
User Details:
76 years old. Post-polio-syndrome.
Victory 10 3-Wheel: Review
11/11/2015
Strengths:
Solid construction.
Weaknesses:
Due to its size and weight, it is ready to tip when operating on uneven surfaces or if the wheels touch a baseboard, etc., within the home. I have fallen several times in the month since it was delivered, injuring myself on each occasion. This 3-wheel scooter requires re-engineering. Extremely disappointed.
Reviewer:
joseph o. from warwick, ri
User Details:
I am unable to walk due to Multiple Sclerosis; diagnosed in 2006. I am a 68-year-old man living at home with my wife and son.
Victory 10 3-Wheel: Review
10/15/2010
Strengths:
tires and paint
Weaknesses:
seat angle and very poor dynamic braking
Reviewer:
robert f. from canton, ma
User Details:
Not provided