Victory 10 3-Wheel
IN STOCK! A sturdy and reliable ride with up to 16 miles per charge.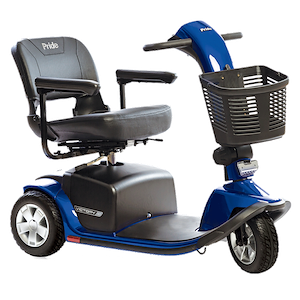 More Information on the Victory 10 3-Wheel
BACK TO TOP
Reviews
Viewing 1 - 4 of 4
Would not buy this one again.
05/17/2022
Strengths:
Gets me where I need to go.
Weaknesses:
Too short; can not get legs from one side to the other without scraping top of foot against tiller base.
Reviewer:
mary l. from garfield heights, oh
User Details:
Female,72,post-polio survivor from age 3yrs. Rll affected, doesn't move anymore by itself.
Have owned one before so I knew I wanted the same one,...
01/06/2018
Strengths:
The cart is very sturdy. I use it outside and it handles very nice in the grass or gravel!! It has a swivel seat that makes for easy transfer. All around quality cart.
Weaknesses:
I wish it had tail lights. I like to go for a ride in the evening sometimes and the headlight is great but can't be seen from the back except by the reflectors would feel more comfortable with tail lights.
Reviewer:
barbara j. from alamo, tx (caregiver)
User Details:
73 year old female, she broke her neck and has some paralysis her left leg has no use.
Victory 10, like all other handicap scooters, has good...
08/13/2015
Strengths:
The delta handle and ergonomic throttle design.
Weaknesses:
Bright L.E.D. lit battery gage blinds at night. Seat will not elevate or lower, a must have to accomadate getting down to a toilet or up to modern high beds. A fixed seat height is really a drawback. Pillar adjustment is difficult on elderly hands with screw type locking handle. No rear lights is a safety hazard at night. Throttle speed control is not smooth but jerky.
Reviewer:
steve l. from lyles, tn
User Details:
I am 69 years old and have lost all use of my legs.
too big and bulky for home use
03/24/2011
Weaknesses:
too big to go through doorways and around corners
Reviewer:
charles l. from charlotte, nc
User Details:
difficulty walking