E-Z Carrier 3 Adjustable Height Scooter & Power Wheelchair Lift
A 6" rise/drop adapter adjusts to different hitch heights which makes it easier to load and unload your product.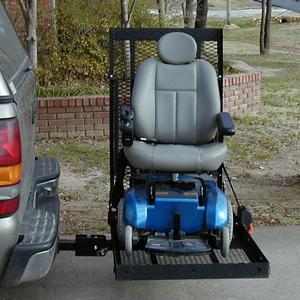 More Information on the E-Z Carrier 3 Adjustable Height Scooter & Power Wheelchair Lift
BACK TO TOP
Reviews
Viewing 1 - 4 of 4
09/14/2014
Strengths:
Nice concept but very hard to use
Weaknesses:
The holes where the pins are are not centered correctly. You must shake and try to lift up the gate in order to get the pins back in all at the same time. Very hard to do! If the lift was more sturdy and the pins were easier to remove and insert I would recommend product but not the way it is now.
Reviewer:
beth t. from blanchester, oh (caregiver)
User Details:
86 female, unable to walk long periods of time, must sit down often when walking with walker.
Too hard to load and unload
03/12/2014
Weaknesses:
One person that is handicapped shouldn't buy this unit to load and unload by themselves
Reviewer:
donald d. from whingham, ga
User Details:
It's hard for one person to load and unload without lowering the unit too close to the ground to haul it
I'm not recommend this product
05/31/2012
Strengths:
easy to assembly a to bend the ramp
Weaknesses:
too weak to support the wheelchair because the hook BEND
Reviewer:
ramon r. from garland, tx
User Details:
Carry my wheelchair but the hook is not strong to hold the chair and bend
too hard for elderly to manouver.
10/06/2008
Weaknesses:
rigid-hard to move-does not allow for ease in loading and unloading. my dad had it installed but hasn't used it to transport the scooter because it is too hard for him to do alone.
Reviewer:
brenda l. from bonaire, ga (caregiver)
User Details:
Father is the user and this lift is not easy for him to use on his own. It is very rigid and hard to move up and down for him. The cost was very reaso