Wrangler II
Very basic transport chair with padded armrests and a fold down back for easy storage and use.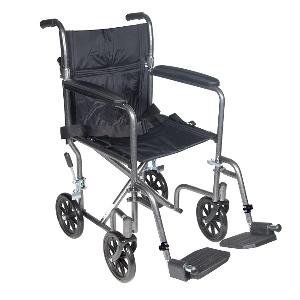 More Information on the Wrangler II
BACK TO TOP
Reviews
Viewing 1 - 5 of 5
01/16/2015
Reviewer:
gary c. from wilmington, de
User Details:
Not provided
11/26/2014
Strengths:
Nice narrow chair to fit through narrow doors. When will someone come out with a dual battery pack or lithium battery to get decent range in a power chair???
Weaknesses:
I need a transport chair around the house since my balance is bad but my feet can still move it about. I don't want a standard chair with a big hand wheel that takes up large room in back. Could have softer tires for continual around the house use. Why didn't you bend the front arm support so that can fit under a table?
Reviewer:
john m. from fort worth, tx
User Details:
Not provided
Speak with someone at Spinlife and make sure you understand...
04/02/2014
Weaknesses:
Not appropriate for my Mom's needs. This chair has four small wheels, but no big wheel that allow the patient to move independently.
Reviewer:
susan s. from andover, ma (caregiver)
User Details:
I should have spoken with someone in your service office as this was not the right light wheelchair for my Mom. She needs one which she can maneuver
11/01/2012
Reviewer:
amy g. from irvine, ca (caregiver)
User Details:
I bought the transport wheelchair for my mom who is 86 yrs old. Unfortunately It is too heavy to carry out.
06/22/2007
Strengths:
The chair is inexpensive and easy to use.
Weaknesses:
It is a bit too narrow for a real sized person. Apparently it is intended skinny persons.
Reviewer:
antonio m. from buena park, ca (caregiver)
User Details:
used by a 76-year old male cancer victim. The chair is easy to fold and unfold and easy to stow in the truck for transportation.