Go Go Ultra X 3-Wheel
The base model of the famous Go Go scooter series.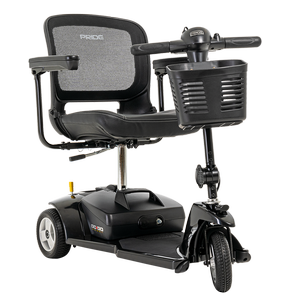 More Information on the Go Go Ultra X 3-Wheel
BACK TO TOP
Reviews
Viewing 1 - 12 of 686
10/01/2023
Strengths:
Light weight, easy to transport and assemble
Reviewer:
ida c. from lakeland, fl
User Details:
I am 71. I have arthritis in my back hips knees and ankles. I also have fibromyalgia. I've had one knee replacement and will have other knee replaced
06/11/2023
Strengths:
portability, light weight, excellent battery life, comfortable
Reviewer:
dwight k. from defiance, oh
User Details:
Not provided
05/27/2023
Strengths:
Ergonomically and engineering well thought out. Solid off road on grass and other semi-hard surfaces. Extra large basket a plus.
Weaknesses:
Suggest placing battery charger female plug on steering column just below the thumb control paddles. Less chance of blood rushing to head and fainting. Those with bending problems cannot reach it's current location. In dark situation, almost impossible to find.
Reviewer:
matthew s. from westfield, nj
User Details:
Recently a patient wit CYSTIC FIBROSIS, early stage. Find it energy and oxygen saving until really needed.
02/17/2023
Strengths:
easy to break down and re-assemble
Reviewer:
david m. from sagamore hills, oh
User Details:
77 year old male - 275lbs - 6ft 3in - diabetic charcot foot
more room needed to move foot to side
01/26/2023
Weaknesses:
The front , not enough space to cross the foot to the other side , keeps getting her foot stuck unable to cross to other side . scooter needs to have enough room to be able to move foot to other side, perhaps something to consider when making scooter. remember person unable to bend leg.
Reviewer:
margie c. from laredo, tx
User Details:
I use it to go to visit people in the neighbor hood. I use it to take a ride when I feel stress, I love it.
Needs more room for knees between seat and handle bars
01/22/2023
Strengths:
Scooter is not sortable for people with knee injuries. Currently sitting sideways to get around and legs on one side of Scooter for now until surgery on knees. Not enough room to put knees through because of injury & motion in my knees.
Weaknesses:
Seat to close to handle bars not enough room for knee or legs.
Reviewer:
yolanda g. from mentone, ca
User Details:
knee that doesn't have full bending motion the other cannot bend need it replaced The scooter needs more room inbetween seat and handle bars for legs
Ok if you just need this part time.
01/15/2023
Strengths:
Comes apart easily to put in trunk.
Weaknesses:
Not comfortable seat and back. No pocket for carrying items on back of seat. Battery pack does not accommodate a larger battery. Not good for long distances. Low clearance to ground so need to stay on concrete.
Reviewer:
sue m. from toledo, oh
User Details:
I am a woman, 77 yrs old. Due to post polio, I can no longer walk. I am forced to use a motorized scooter all the time.
01/13/2023
Strengths:
handy to have for small errands
Reviewer:
ro m. from holiday, fl
User Details:
no physical disability - just very bad back pain walking
11/04/2022
Strengths:
Incredibly tight turning radius. Small enough to fit in the back of a car.
Weaknesses:
Feel there are no weaknesses.
Reviewer:
carla s. from burlington, ia
User Details:
And 69 year old MS patient. I've been riding a mobility scooter since 2007.  I have had three pride scooter. Dependable.
ease of assembly and easy to operate. have not used it...
03/12/2022
Strengths:
same as above,easy to assemble and operate for disabled and and also caregiver
Weaknesses:
its small, but that was my choice in order to easily handle the weight of each part
Reviewer:
thomas c. from leeds, al (caregiver)
User Details:
Not provided
I have not used it very much but when I have I was very...
01/08/2022
Strengths:
Short turning radius, Easy to transport
Weaknesses:
Had troubles in some small gravel. Got stuck a few times.
Reviewer:
dennis m. from schenectady, ny
User Details:
70 year old man with neuropathy and balance issues. Can walk but not long distances.
11/01/2021
Strengths:
Just all around battery strength maneuvering comfort portability. just all around great
Weaknesses:
Myself really can't find any weaknesses I personally love it
Reviewer:
korey b. from stockton, ca
User Details:
67 yr old male WC user with shoulder problems so my scooter works great to use in the yard for many various yard duties .