Go Go Elite Traveller 3-Wheel
Compact, lightweight and easy to disassemble. Upgradable Batteries for longer drive range.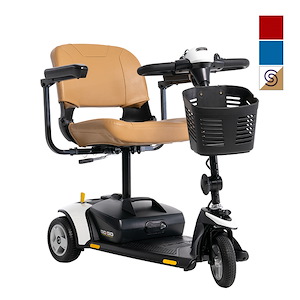 More Information on the Go Go Elite Traveller 3-Wheel
BACK TO TOP
Reviews
Viewing 1 - 12 of 115
Essentially pleased with it.
09/28/2023
Strengths:
Handy for people with mobility problems.  I charge it at night so it will be ready for use most of each day
Weaknesses:
I am tall, have long legs and arms.  Other 3 wheelers I tried but didn't meet my needs had better leg room, clearance on floor of 3 wheeler.  Getting on and off would be easier if there wasn't a hump on floor at base of steering column! Seating not as comfortable as I had hoped.  Perhaps a 3 wheeler especially for tall people should be available.
Reviewer:
carolyn k s. from houston, tx
User Details:
85 yr old woman who has some mobility problems.  Live on 8th floor and a very long way to elevator, so my 3 wheel scooter is very necessary.
09/03/2023
Strengths:
No.1 is dependability.  It has a comfortable ride.
Weaknesses:
This isn't exactly a weakness but the basket could be larger.
Reviewer:
nisaa r. from columbus, oh
User Details:
I am a post-polio survivor.  I had polio at age 4. Now i have to use a wheelchair and scooter to get around.
The unit is dependable, made well and easy to use.It is not...
06/04/2023
Strengths:
It is sturdy, hold a charge well and meets my transportation needs.
Weaknesses:
Base is heavier to pick up than I anticipated buy I have adapted.
Reviewer:
barbara p. from north dinwiddie, va
User Details:
Not provided
Easy to drive, adequate power, ease for travel. My one...
10/23/2022
Strengths:
Travels easily, adequate power, easy to charge
Weaknesses:
For my current medical situation, I had to keep my right leg straight. My foot was not supported and extended over the front of the scooter. A friend built a frame to support my leg. Now I am able to bend my leg and that is no longer an issue.
Reviewer:
mary g. from cypress, tx
User Details:
I am 71 years old, with multiple medical problems. I bought the scooter after a serious fall in which I ruptured my quad tendons from my knee.
06/03/2021
Strengths:
Got the extended use battery and that is a blessing. No worry whenever I go for extended outings..
Weaknesses:
Being a three wheeler I find it difficult to attach the main body to the back drive wheel carriage....front wants to turn and twist. Overall I love my scooter.
Reviewer:
dianne f. from post falls, id
User Details:
Have bad knees that keep me from any distance walking.
02/27/2021
Strengths:
Reliability Workmanship Packaging Good customer service
Weaknesses:
Price Legroom
Reviewer:
pat a. from grover beach, ca
User Details:
I am the user of the scooter
seat not real comfortable tiller is good charge...
11/28/2020
Strengths:
easy to operate like new tiller motor deems stronger
Weaknesses:
seat not comfortable
Reviewer:
floyd r. from harrison, mi
User Details:
Double amputee
Go-Go Elite Traveller 3-Wheel: Review
09/30/2020
Reviewer:
patricia m. from staten island, ny
User Details:
Progressive MS. Unable to walk
good product for inside of house because its small size...
09/10/2020
Strengths:
small size, very good weight capacity, good workmanship
Reviewer:
thomas l. from stockton, ca
User Details:
User is a male 74 yrs, retired with feet and back injuries.
09/05/2020
Strengths:
EXTENDED USE BATTERY
Weaknesses:
TOO LOW TO THE GROWN
Reviewer:
kathryn a. o. from cinnaminson, nj
User Details:
WE BOUGHT 2 SCOOTERS, ONE FOR HUSBAND WITH LIMITED MOBILITY AGE 82, WIFE IS YOUNGER MORE MOBIL BUT ALSO NEEDED A SCOOTER. THEIR PRIME USE IS IN SIDE
Product right out of the box had a clicking sound upon use,...
08/20/2020
Strengths:
Appearance and ease of operation, assembly and disassembly is great
Weaknesses:
Quality Assurance inspections be increased to reduce factory defects.
Reviewer:
gerald b. from woodburn, or
User Details:
Age 88, Arthritis hip and knee
I love the Pride Scooter!
07/06/2020
Strengths:
Very dependable, durable, and a good price!
Weaknesses:
I don't care for the round handlebar, as I am used to hanging packages on the traditional straight handlebars.
Reviewer:
carla s. from burlington, ia
User Details:
I have used Pride Mobility Scooters for 25 years as I have secondary Progressive M.S. I have little balance and the inability to walk distances.