Hoyer Advance-E Professional Patient Lift
Folds for easy storage and transport and lifts from the floor.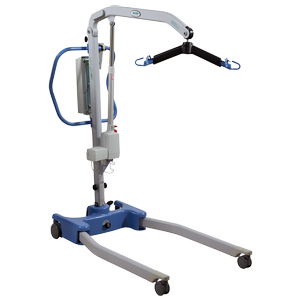 More Information on the Hoyer Advance-E Professional Patient Lift
BACK TO TOP
Reviews
Viewing 1 - 12 of 20
After I finally had to replace my manual lift, this turned...
07/23/2020
Strengths:
Easy to unpack the delivery. I look forward to the smooth, slick operation every day. Battery lasts many cycles. Looking forward to using the lift to transfer me between wheelchair and car passenger seat, then folding the lift to stow in the trunk.
Weaknesses:
There should be a wider selection of slings. It does not come with a weigh scale: that is going to double the cost.
Reviewer:
dennis c. from melville, ny
User Details:
Quadriplegic, secondary progressive MS. Anxious to protect the backs of my caregivers! Determined not to be institutionalized.
Great patient lift. Lightweight easy to use.
04/03/2020
Strengths:
Light weight, wide legs to go around large furniture. Portability.
Weaknesses:
The remote sometimes doesn't work when lowering the patient.
Reviewer:
ceceila p. from blountville, tn (caregiver)
User Details:
My husband is total assist. I can only move him from bed to chair/wheelchair with a hoyer.
11/01/2019
Weaknesses:
poor instructions for assembly
Reviewer:
george f. from san jose, ca (caregiver)
User Details:
For my wife who has Alzheimers disease
Advance-E Professional Patient Lift: Review
04/04/2019
Weaknesses:
step on pedals to open and close legs are very noisy. needs a second remote controller, or a better hanger arrangement at the patient end of the lift to allow the caregiver to use both hands in guiding the patient in and out of a wheelchair or bed
Reviewer:
harold c. from tampa, fl (caregiver)
User Details:
Patient is 85, female with Alzheimers and contusions of the feet and ankles, She cannot walk of stand. Fed thru a G tube. Lives at home.
Advance-E Professional Patient Lift: Review
03/03/2016
Strengths:
It is of high quality and portable.
Weaknesses:
The wheels do not swivel as easily as we would like and the length of the legs makes it a little difficult to turn in to doorways from a narrow hallway, causing damage to baseboards and door jambs.
Reviewer:
carol f. from jacksonville, fl
User Details:
I have inclusion-body Myositis and can no longer walk or stand. My caregivers use the lift to safely transfer me from my bed or wheelchair.
Smooth movement in elevating or lowering patient
08/22/2014
Strengths:
The unit moves the patient up and down slowly and smoothly. Rotating the person while elevated is very easy.
Weaknesses:
Unable to steer the unit with the patient elevated. It moves smoothly across the hardwood floor without anyone in the unit. Once you put a person in the unit the front casters do not move easily.
Reviewer:
ronald p. from marlton, nj (caregiver)
User Details:
The person has no use of his legs or one arm.
Easy to use once we figured out how to fix it when it quits...
08/09/2014
Strengths:
Small footprint. Secure attachments. Low base.
Weaknesses:
Quits mid-hoist if control is not plugged in properly.
Reviewer:
maureen l. from port ludlow, wa (caregiver)
Product works as advertised.
07/28/2014
Strengths:
Provides capability to lift disabled persons.
Weaknesses:
The operating manual does not make clear that the electric plug must be removed from the socket for the device to work. Initially, I thought the product was defective. The operating manual that came with the free sling is inadequate in my opinion.
Reviewer:
lawrence a. from center line, mi (caregiver)
User Details:
Can't walk or stand due to dementia.
Great. My home is small. This is the most compact one I...
06/21/2014
Strengths:
Compact Easy to use
Weaknesses:
It is not easy to fold. I wish it was because of the space I have available in my home (small halls, etc.) It would be nice to be able to move it from room to room. I would use it more if it was easier to fold. That was one of the reasons I purchased it -- its folding capabilities -- but it is too hard for me to do.
Reviewer:
patricia m. from dayton, va (caregiver)
User Details:
Mom can no longer get into bed. I can no longer get her into the bed. So mostly it is used for lifting.
04/24/2014
Strengths:
Construction and working details
Weaknesses:
Wheels not big enough. Not good on carpet. No way to control sway. Automatic lift mechanism hit patients knees when raised.
Reviewer:
ronald k. from estero, fl (caregiver)
User Details:
80 years of age. 230 pounds. Can't walk
Works well for the purpose we needed.
03/09/2014
Strengths:
When not in use, folds up making it usable in mobile home or apartment.
Weaknesses:
When folding down it must be done in one motion otherwise it hangs up. As a one person user lifting up and folding down in one motion is tough to do.
Reviewer:
ronald h. from springfield, il (caregiver)
User Details:
Not provided
09/27/2013
Strengths:
High quality, good design and meets expectations of a patient lift.
Weaknesses:
The weakness is not with the lift, it's with the sling. First, it is confusing and complicated with the crossing straps and all the different loop attach points. Consider a care giver in not much better shape than the user of having to get down in the floor and wrestle that sling under her and not being able to get back up off the floor himself. What is needed is a rescue buoy of sorts. Something to slip over the head and under the arms to just get her high enough to get a chair under her. Then the sling could be positioned in the chair and more easily attached to the user for further movement /transportation. Also the wheels are too small to maneuver in plush carpet.
Reviewer:
jerry f. from azle, tx (caregiver)
User Details:
Seventy one year old female diagnosed with Progressive Supranuclear Palsy, falls easily, mostly wheelchair bound but has to get up occasionally.