Toilet Seat
Prevent shearing and minimize friction while transferring to a toilet seat or bedside commode.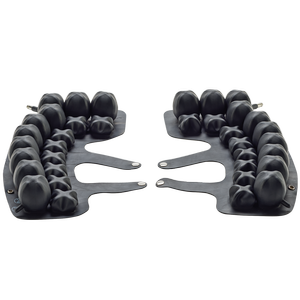 More Information on the Toilet Seat
BACK TO TOP
Reviews
Viewing 1 - 12 of 13
05/12/2022
Strengths:
easy to install, very comfortable
Reviewer:
james j. from union, ia
User Details:
I am 85 years old and confined to an electric wheelchair. I have a ROHO seat that allows me to sit 14 hours very comfortably. The Toilet Seat is great
As a OTA I recommend this product as it's performance is...
03/26/2016
Strengths:
Performance, Design, Durability, Ease of installation and easy to clean.
Weaknesses:
No weaknesses noted at this time. We have only had the product for a short time.
Reviewer:
joann d b. from ware, ma (caregiver)
User Details:
73 year old Male paraplegic who received skin tears from shearing on toilet seat during transfers.
Well made product, superior performance to foam or gel.
03/14/2015
Strengths:
The air flotation feature of ROHO out-performs other cushions in the area of pressure sore prevention.
Weaknesses:
The inner cells closest to the toilet seat could be a bit more numerous and/or dense so as to prevent any unnecessary contact and potential skin damage.
Reviewer:
thomas m. from alameda, ca
User Details:
I'm a 59 year old male, C 6-7 incomplete with the ability to transfer myself. I sustained this injury back in 1988
10/29/2014
Weaknesses:
Potential leak
Reviewer:
mary h. from neenah, wi (caregiver)
User Details:
96 year old mother
04/24/2012
Strengths:
heals and prevents pressure sores from sitting on the john
Weaknesses:
needs more straps, better straps-have used adhesive tape to keep it in the right position
Reviewer:
linda f. from arlington, va
User Details:
t-8 paraplegic, age 64, disabled since age 16
ease of use and comfort are the forte
03/10/2012
Weaknesses:
none apparent
Reviewer:
nyal c. from macon, ga (caregiver)
User Details:
31 years old, female, severe cerebral palsy.she is thin and the Roho cushion used in the blue wave shower chair brings comfort and stability.
01/18/2011
Reviewer:
diane p. from pensicola, fl (caregiver)
User Details:
31 year old male; parapalegic for 10 years
solved a problem where no other device could
03/05/2009
Strengths:
Prevents pressure sores.
Weaknesses:
Easily damaged. Have torn up a couple of these
Reviewer:
michel h. from wichita, ks (caregiver)
User Details:
63-year old para female
Great product eases pressure.
06/28/2008
Strengths:
overall a great product would highly recomend.
Weaknesses:
the only difficulty is when you put it on the seat, but that is minor.
Reviewer:
margarita r. from nogales, az
User Details:
I am a user due to a t12,l1 injury.(paraplegic)
This a must have for travelling
06/24/2008
Strengths:
It is easy to use, compact and easy to clean. It gave us both peace of mind because it helped stabilise my husband and adapt the so-called ADA toilet facilities - most of which were standard height.
Weaknesses:
Have yet to find out.
Reviewer:
sandra m. from bend, or (caregiver)
User Details:
My husband is quadraplegic and 67. He was fit and healthy and commuting to work on his bicycle when he was injured. He has a power chair. He has limit
04/06/2007
Strengths:
Good for home use and also easy to use for travel. It is very easy to rinse and keep clean.
Weaknesses:
Very satisfied.
Reviewer:
shawn s. from salt lake city, ut
User Details:
Paraplegic.
Has solved the problem I had with pressure sores.
03/02/2007
Reviewer:
william h. from yemassee, sc
User Details:
Not provided