Toilet Seat
Prevent shearing and minimize friction while transferring to a toilet seat or bedside commode.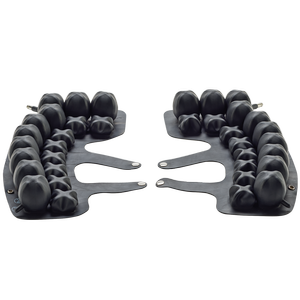 More Information on the Toilet Seat
BACK TO TOP
Reviews
Viewing 1 - 3 of 3
10/01/2012
Reviewer:
paul b. from folkston, ga
User Details:
Not provided
03/31/2010
Strengths:
It does prevent skin breakdown. However, I still need to lift my Mom up every two to three hours to relieve the pressure on her bottom since she usually is on the commode for 10 hours.
Weaknesses:
The straps will not be able to snap on to the toilet seat. The straps are just too short to wrap around the seat on a regular toilet not to mention trying to strap it on to the seat of a commode. They should have made the straps adjustable instead.
Reviewer:
mervyn w. from san francisco, ca (caregiver)
User Details:
72 years old female with lower body disability
Excellent cushioning a little small for normal seats.
06/04/2008
Strengths:
The durability, product name and comfort are second to none.
Weaknesses:
It is a little small for normal seat use. The straps provided are of little to no use. The inner support cushions should be a little larger to provide closer in support. The larger, outer protuberances provide little or no support for a smaller, lighter weight person.
Reviewer:
danny c. from dixon, ca (caregiver)
User Details:
Aaron is a T-2 parapalegic. Lightweight, at 123 Lbs & six feet tall. He's 24 and very athletic.