Toilet Seat
Prevent shearing and minimize friction while transferring to a toilet seat or bedside commode.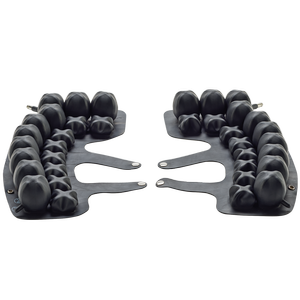 More Information on the Toilet Seat
BACK TO TOP
Reviews
Viewing 1 - 12 of 20
05/12/2022
Strengths:
easy to install, very comfortable
Reviewer:
james j. from union, ia
User Details:
I am 85 years old and confined to an electric wheelchair. I have a ROHO seat that allows me to sit 14 hours very comfortably. The Toilet Seat is great
This product needs to be stronger.
04/04/2018
Strengths:
The strength of this product is it is great for someone who can walk.
Weaknesses:
This product is not strong enough for a para or quad.
Reviewer:
mattie w. from shreveport, la
User Details:
I am a paraplegic, and do not walk. The cushion moves out of place on the commode. This product does not stay in place.
08/12/2017
Weaknesses:
Does not fit toilet seat properly. Straps not properly located and too short. Should have multiple adjustments. Over priced. No directions in regards to proper inflation. Difficult to transfer independently without product moving off seat.
Reviewer:
ronald m. from punta gorda, fl
User Details:
76 year old male. 45 post sci T7-8 injury.
As a OTA I recommend this product as it's performance is...
03/26/2016
Strengths:
Performance, Design, Durability, Ease of installation and easy to clean.
Weaknesses:
No weaknesses noted at this time. We have only had the product for a short time.
Reviewer:
joann d b. from ware, ma (caregiver)
User Details:
73 year old Male paraplegic who received skin tears from shearing on toilet seat during transfers.
05/27/2015
Strengths:
Don know. It never worked with the camo chair
Reviewer:
gary b. from san diego, ca
User Details:
I ordered this toilet seat cushion for my newly disabled son's new camo chair. Did not know it will not fit for the camo chair.
Well made product, superior performance to foam or gel.
03/14/2015
Strengths:
The air flotation feature of ROHO out-performs other cushions in the area of pressure sore prevention.
Weaknesses:
The inner cells closest to the toilet seat could be a bit more numerous and/or dense so as to prevent any unnecessary contact and potential skin damage.
Reviewer:
thomas m. from alameda, ca
User Details:
I'm a 59 year old male, C 6-7 incomplete with the ability to transfer myself. I sustained this injury back in 1988
10/29/2014
Weaknesses:
Potential leak
Reviewer:
mary h. from neenah, wi (caregiver)
User Details:
96 year old mother
difficult to transfer to/from due to lack of support
06/27/2013
Weaknesses:
doesn't seem to fit my body right even though I am a medium build adult person.
Reviewer:
julie m. from greenwood, in
User Details:
69 year old paraplegic
10/01/2012
Reviewer:
paul b. from folkston, ga
User Details:
Not provided
04/24/2012
Strengths:
heals and prevents pressure sores from sitting on the john
Weaknesses:
needs more straps, better straps-have used adhesive tape to keep it in the right position
Reviewer:
linda f. from arlington, va
User Details:
t-8 paraplegic, age 64, disabled since age 16
ease of use and comfort are the forte
03/10/2012
Weaknesses:
none apparent
Reviewer:
nyal c. from macon, ga (caregiver)
User Details:
31 years old, female, severe cerebral palsy.she is thin and the Roho cushion used in the blue wave shower chair brings comfort and stability.
01/18/2011
Reviewer:
diane p. from pensicola, fl (caregiver)
User Details:
31 year old male; parapalegic for 10 years