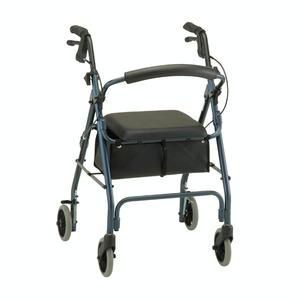 More Information on the GetGo Classic
BACK TO TOP
Reviews
Viewing 1 - 12 of 21
08/02/2020
Strengths:
easy to put together - came quickly seems to work for both parents
Weaknesses:
The product was difficult to close at first but your customer service says this should get easier over time.
Reviewer:
kerry f. from burlingame, ca (caregiver)
User Details:
bought for my parents who are in thier ealry 80's- they live in ny but i was able to test out at bay shore medical in burlingame cal which made me dec
05/19/2020
Strengths:
Light and easy to move, fold, transport.
Weaknesses:
Has first time difficulties, but then each time gets easier.
Reviewer:
kirk e. from beaver creek, oh
User Details:
74 years old, 115 pounds, male, needed the lightest I could find.
03/04/2016
Reviewer:
nancy w. from hope hull, al
User Details:
I think you need to be sure they know how to put on brakes.
Great walker for the price.
01/07/2016
Strengths:
Feel very secure in walking. The wheels have a light tread, and the brakes are excellent.
Weaknesses:
The handrails are somewhat "tacky" and easily catch on things. The backrest is not fixed which makes it more difficult to lift to put in my vehicle or up steps.
Reviewer:
kathy l. from nashville, tn
User Details:
Has balance and walking issues due to MS as well as osteoporosis.
This is a great piece of equipment.
05/17/2015
Strengths:
The strengths are all I would want to have
Weaknesses:
The weaknesses are in the brake wires and the grip handles were hard. I also had one of the walkers with soft rubber handles.
Reviewer:
benny s. from norwood young america, mn (caregiver)
User Details:
My wife has MS and this the third GetGo Walker I have ordered for her. They have worked well for her. The sturdiness is a big asset.
08/18/2014
Weaknesses:
Would like to be able to raise the handles up another notch--not any extra spaces. Previous one I got from you I was able to.
Reviewer:
adele r j. from mayville, ny
User Details:
83yrs. severe rheumatoid arthritis
05/08/2014
Strengths:
Basket use is unique. Rollator moves with great ease!
Weaknesses:
Seat seems smaller than rollator without a seat basket.
Reviewer:
debbie b. from marana, az
User Details:
50+ year old female with a walking disability
09/07/2012
Weaknesses:
I don't know at this time. I haven't used it long enough.
Reviewer:
v mary t. from los angeles, ca
User Details:
80+ years w/OA & spinal stenosis. lives in a retirement community w/many people who have walkers. Have received many compliments about mine.
07/28/2012
Weaknesses:
right hand side joint weld.
Reviewer:
karen p. from milbridge, me
User Details:
Not provided
I recommend this for people who have balance issue that can...
01/19/2012
Weaknesses:
Does not fold as flat as I would like, but still fits nicely in my trunk, even with transport wheel chair. My trunk is quite small since I have a hybrid and the battery takes up part of the space
Reviewer:
leanna m. from newcastle, wa (caregiver)
User Details:
I bought this for my 84 year old mother who had a stoke and is quite unstable on her feet. The brakes are a bit confusing for her.
why is iy not made in the usa, instead vietnam.
10/15/2010
Strengths:
i like the bag on it, instead of the basket type that you have to remove every time you have to put it in the car.
Weaknesses:
you have to watch out for the stroller scooting out from you when you hit and go over a threshold or small incline. it might just be me.
Reviewer:
jeffrey v. from mooresville, nc
User Details:
Not provided
I do not need this on a daily bases but only when walking...
07/04/2010
Reviewer:
sandra t. from tampa, fl
User Details:
Not provided
Popular Related Products