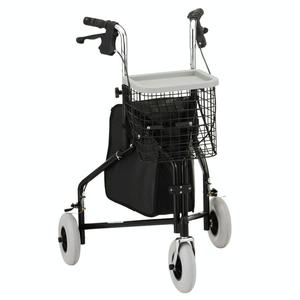 More Information on the Traveler 3-Wheel Walker
BACK TO TOP
Reviews
Viewing 1 - 5 of 5
Not sturdy as my 4 wheel!
06/25/2016
Strengths:
Closes up to smaller space ! Quality good ! wheels better ! Walking space for feet small !! ??
Weaknesses:
Smaller space for feet !! Not sturdy feeling not tall enough for tall man or woman
Reviewer:
dr thomas m. from norfolk, va (caregiver)
User Details:
72 yr stroke pt.with central vertigo. Normal physical strength female. No other disabilities !!
A real helping hand, when I need it. I don't go anywhere...
01/17/2013
Strengths:
Love the weight of the 3 wheeler. Easier to load and unload from my car. Large pocket helps me with all my shopping. Added Basket adds more carrying room. The breaks keep the 3 wheeler where I stop. I just love this item.
Weaknesses:
Breaks are a little too tight. Feels as if I might break the handle when setting the breaks.
Reviewer:
susan k. from selma, nc
User Details:
A car T-boned in 2004, breaking my neck,back, hips and knees. After 5 spinal surgeries I purchased a(blue)3 wheelers, Love it.
This unit is too heavy for moving into and out of...
07/14/2011
Strengths:
sturdy and well made
Weaknesses:
Too heavy for my wife to carry for me, up stairs, into car and even to move around. The widening feature is too stiff. I use the others for mobility of use and the 2 new ones stay on one floor in my split level and in my cape cod vacation home.
Reviewer:
john e. from springfield, pa
User Details:
Not provided
worse than my 20 year old Nova
06/22/2011
Strengths:
I have a Nova Travelor I bought about 20 years ago that I love and when I needed a second one I bought one. The new one seems heavier, doesn't open as wide, doesn't stear as well and the lock is near to impossible to open and close plus the old nob on my old Nova doesn't hurt my hand where as the new square, sharp apperratis to lock/unlock does!
Weaknesses:
New over all shape prevents it from opening as wide. All of the above complaints. Not nearly as maneuverable as my old one. heveier to pick up.
Reviewer:
carolynn c. from bend, or
User Details:
74,stroke 32 years ago,with left side disability, balance center in brain stem damaged.
Traveler 3-Wheel Walker: Review
12/17/2007
Strengths:
It travels over bumps and uneven surfaces, has a brake, is sturdy.
Weaknesses:
too heavy to lift
Reviewer:
gloria t. from santa barbara, ca
User Details:
I haven't been able to use it because it is too heavy to carry down my stairs and lift into my car. I am still using myliftweight walker. Maybe in th