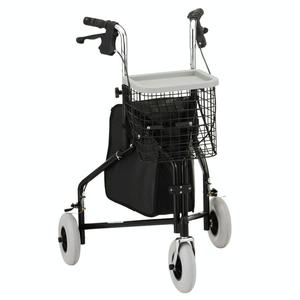 More Information on the Traveler 3-Wheel Walker
BACK TO TOP
Reviews
Viewing 1 - 12 of 126
Practical, helps with carrying of simple daily items, such...
08/23/2023
Strengths:
Helps with mobility/walking and access to items of daily living- provides a way to carry items such as dinner plate, cup, fresh fruit, and even a tablet…
Weaknesses:
The three wheel Nova, is a bit bulky-need to make sure you have space for moving it from room to room. It is sturdy, for walking-a bit complicated in putting together, had difficulty with adjusting brakes.
Reviewer:
carmela l. from sunland, ca
User Details:
Individual, senior with MS, mobility problems and more.
No fear of falling any longer.
09/17/2021
Strengths:
Is very sturdy so easy going from room to room. Have told many friends what a wonderful walker it is.
Reviewer:
judy u. from cedar rapids, ia
User Details:
I am a 75 year old widow, I have PMA and unable to walk far. I ordered the Traveler 3-Wheel Walker and love it.
This is a high quality walker with a very slim profile,...
03/04/2020
Strengths:
Quality of construction. Stability and ease of use
Reviewer:
anne w. from green valley, az (caregiver)
User Details:
92 year old with difficulty walking due to neuropathy in legs due to an autoimmune disorder similar to MS.
11/14/2018
Strengths:
Need to use it for walking every day! It has become my best friend!
Weaknesses:
None whatsoever!
Reviewer:
margaret s. from north arlington, nj
User Details:
Need duel support due to balance issues caused by MS
08/21/2018
Strengths:
ease of use and ability to get in and out of my car,go into stores etc.
Weaknesses:
none at this time
Reviewer:
raymond l. from oakton, va
User Details:
I 79 years old with significant movement, balance, stability problems. Can drive and still get about with a cane/walking stick the walker
Outstanding product exceeds the description
08/19/2018
Strengths:
Ease of use sturdy confidence for user to ambulate go to many locations
Reviewer:
raymond l. from oakton, va
User Details:
Get about. Very easy to fold store set up new location sturdy and ease of use
This walker is solid, flexible to squeeze through tight...
07/26/2018
Strengths:
Large white wheels to go over uneven walking areas and give more stability, great hand brakes and locking brakes, easy to adjust handle bar height, squeezes flat to lay in trunk of car. The white wheels are better in the house than black I would think. It is solid as my hands carry my full weight on the handle bars and my feet follow the movement of the walker.
Weaknesses:
This walker can be a bit difficult to lift if you have a weak back like myself. I love the bag that easily snaps on and off in place but there is no place for me to get hold of the walker to get it up when the bag in attached. I wish there was a pocket on the inner side of the bag to keep my cell phone handy.
Reviewer:
janice b. from new wilmington, pa
User Details:
Began using this full time in 2015 at age 69 in order to take steps to walk due to scoliosis, weak muscles, and no balance. This is my second one.
Love the Nova Traveler rollator--have 3 of them from my 25...
01/02/2018
Strengths:
Very sturdy and allows you to walk in a normal straight-up position when using--no hunching over needed. Handles height is adjustable to fit your desired height. Has braking system, if needed. Can fold it up right in front of you for use in tight spaces, i.e. elevators with other people in there. Keeps their looks over years. I have a 25 year old one; a 15 year old one and a new one--all perfectly usable. (Keep one always inside car or car trunk.) A wonderful product and have had even doctors, etc. stop me to ask about it and where I got it!
Weaknesses:
Practically none. The 8" tires' treads will finally wear down too low for brake pedal to reach them firmly or at all (mainly if used outdoors a lot on concrete, etc.) but you can order a set of new tires. Also, is "all terrain" but a bit harder to go through sand, rocky ground, and uneven grassy areas, as would be expected. Rolls effortlessly over concrete or asphalt or inside houses or buildings.
Reviewer:
kathryn j. from delmar new york, ny
User Details:
Female, age 79 in upstate NY, with balance problem from limb-girdle. Balance problem when walking solved-- and in completely upright position.
Traveler 3-Wheel Walker: Review
05/30/2017
Reviewer:
micheal d. from morganton, nc
User Details:
Not provided
01/19/2017
Strengths:
Uses smaller space and easy to get in car.
Weaknesses:
Not as strong as a regular walker.
Reviewer:
beatrice z. from grand rapids, mi
All great and very prompt delivery.
01/19/2017
Strengths:
Compact and easy to use, great quality and looks cool!
Reviewer:
joan h. from gig harbor, wa
User Details:
My husband will use the 3 wheel walker for long term recovery from back surgery. Very handy the way it quickly folds for transport and very well made.
The Walker is a strong, good-looking product.
12/03/2016
Reviewer:
georgina m. from lakewood, oh
User Details:
Not provided