Cloud PR-515 MaxiComfort with Twilight
Luxurious chair with Twilight positioning, Power Headrest, and Power Lumbar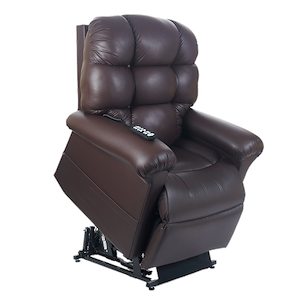 Golden Technologies
(Model No. PR-515)
VIEW ITEM
More Information on the Cloud PR-515 MaxiComfort with Twilight
BACK TO TOP
Reviews
Viewing 1 - 12 of 63
08/10/2022
Strengths:
Comfortable, easy to use and adjust
Reviewer:
john r. from westfield, nc
User Details:
Disabled with bone on bone knees and must sleep almost upright.
Almost a perfect fit for my needs.
07/20/2022
Strengths:
I love the ability to raise my legs above heart level and to be able to fine tune the head and lumbar support. The size of the seat is perfect for my body. Even without the straight lift, it works for me because of my height.
Reviewer:
lori w. from riverbank, ca
User Details:
I'm 5'2" with inclusion body myositis.
Top of the line and good investment.
07/06/2022
Strengths:
Five adjustable Zones for just about any position you might desire.
Weaknesses:
Can't think of any. A fine product.
Reviewer:
donald l. from atlanta, ga
User Details:
My wife and I are 92 and now require lift chairs to get up out of our chairs. After considerable study and talking with other users, we chose Golden.
Good, but could be better
06/25/2022
Strengths:
It allows pain free rising
Reviewer:
donna b. from front royal, va
User Details:
A 77 year old female with osteoporosis and several repaired spinal fractures. Also has scoliosis, spinal stenosis, radiculopathy, asthma, and severa
Absolutely wonderful chair.
05/29/2022
Reviewer:
richard v. from brownstown twp, mi
User Details:
Not provided
05/21/2022
Weaknesses:
bottom of seat chair not stay firm.
Reviewer:
mark c. from fremont, ca
User Details:
I need this chair for my right leg that need to uplight.
This is my third lift chair. I previously owned Pride...
05/14/2022
Strengths:
I like that I can elevate my legs with this chair.
Weaknesses:
It is important to read the information that comes with the chair so that you know how to recalibrate the components when needed.
Reviewer:
bette c. from memphis, tn
User Details:
I'm a 74 yr. old female with Lupus with severe osteoarthristis and 6 joints replaced with prosthetics and/or plates and screws.
05/04/2022
Strengths:
Feet elevation.
Reviewer:
gina s. from philadelphia, pa
User Details:
I have MS with limited use of my legs. I developed lymphasema as a result. I needed my feet elevated.
In a power outage I will not be able to get out of this...
05/02/2022
Strengths:
The Rejuvinate position. Reason why I bought it.
Weaknesses:
Not having a way to come back to sitting position in power outage, specially if you are in Rejuvinate position!
Reviewer:
nita n. from southaven, ms
User Details:
I cannot believe that a chair of this price is missing safety feature to bring to sitting position in an electrical outage!!!
This chair is a life-saver.
04/15/2022
Strengths:
It is truly infinitely adjustable. Wherever it hurts, one can adjust the chair for relief
Weaknesses:
I live in the country. Every time the power dips, I need to recalibrate the settings of the remote.
Reviewer:
ron e. from hazard, ne
User Details:
I'm a 79 year old male. I suffer from osteoarthritis. Sometimes, bed just isn't comfortable, and I move to the PR-515 chair. Owned 15 months now.
Like chair just miss a few things I would perfer.
03/16/2022
Strengths:
main reason I bought this chair was for higher leg lift.
Weaknesses:
The sitting up positions with leg lift up.
Reviewer:
ladonna a. from madisonville, ky
User Details:
75 years old, have both knees replaced and have trouble getting up and down, short in height and over weight have back pain and leg pain with swellin
The chair is a life changer and allows her to get her legs...
03/03/2022
Strengths:
The multiple positions allow her to get her feet up and have reduced swelling. The lift position makes it much easier to get in and out of the chair
Weaknesses:
The remote is a bit intimidating at first
Reviewer:
nadine b. from fostoria, mi (caregiver)
User Details:
My mother is 87 and is in a wheelchair so she sits all the time. Her legs and feet have been very swollen.