Go Go Sport Scooter
The Go Go Sport offers the highest weight capacity of the Go Go series at 325 lbs.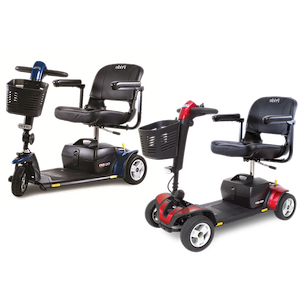 More Information on the Go Go Sport Scooter
BACK TO TOP
Reviews
Viewing 1 - 12 of 140
My scooter has made it possible for me to stay in my house
07/09/2023
Strengths:
It is easy to maneuver -dependable - 
Weaknesses:
This new GoGo model has 2 drawbacks - one being a seat that has more of a rubber quality- making it more difficult to slide on and off. The second issue, the front wheel leaf scuff marks, making me have to clean my kitchen and bathroom floors continually if there is a solution for this, please let me know. 
Reviewer:
linda p. from dothan, al
User Details:
I am a female, age 75 dealing with post polio. My legs are the issue, and the scooter is a godsend.
07/07/2023
Strengths:
im able to assemble it alone with no help
Reviewer:
charles h. from kenosha, wi
User Details:
Not provided
01/17/2023
Reviewer:
karen s. from framingham, ma
User Details:
50's trouble walking
This thing is a lifesaver!
11/23/2022
Strengths:
We bought this for my father-in-law and he lives in a mountainous area. This scooter goes up a steep driveway (that gets me out of breath just walking up it) with no problems. He is very limited in mobility and the way everything turns and slides allows me to adjust it so that he can easily get on and off. 
Reviewer:
melissa e. from 32563, fl
User Details:
Not provided
09/25/2022
Strengths:
Strengths are that we don't have to stay on a flat, fully paved path. Comes apart and back together easily.
Weaknesses:
The weight! Weight is as accurately described and we can manage it because we want to use it on rougher terrain. If there is any way it could be lighter, without losing stability, it would be wonderful.
Reviewer:
pat b. from king, nc (caregiver)
User Details:
My husband is 77 and was very active until a combination of health events have caused mobility problems.
Best scooter available for ease of use
09/04/2022
Strengths:
Size and mobility works for use in home, restaurants and stores. Fits easily into car and is simple to put on a lift.
Weaknesses:
Choice of colors. I've owned this same model for over twelve years and I'm tired of only a choice of red/blue. Seems the panels should be able to come in yellow, green, black and silver. Easy fix.
Reviewer:
rebecca b. from rockport, tx
User Details:
74 yr old female. Post polio paralysis. Uses scooter 85% of the day for mobility indoors and outdoors
08/16/2022
Strengths:
To be able to get it to places.
Reviewer:
jack o. from akron, oh (caregiver)
User Details:
Not provided
Excellent product - will purchase again if the need arises!
05/24/2021
Strengths:
1) For our aging population - it's easy to use. 2) Durability - other than routine maintenance and a new battery, the original unit looks as good today (and performs as well) as it did when it was donated!
Weaknesses:
Sorry! Can't think of any!
Reviewer:
mark s. from indianapolis, in
User Details:
The Scooter was purchased for our church as we have a large building and an aging population.
Don't be stuck in the house. Get a pride mobility scooter...
05/05/2021
Strengths:
Easy to operate
Weaknesses:
I've not found any weaknesses yet
Reviewer:
rick j. from modesto, ca
User Details:
My pride 3 wheel sport scooter is the best investment that I've made lately. I'm able to go shopping and to the mall with my family.
Like being to go faster then other people
12/12/2020
Strengths:
Turns really sharp
Weaknesses:
Going up a steep hill in the Ozarks it stopped. In reading manual found out why. A sticker for new owners about this would have been helpful.
Reviewer:
arlene g. from valparaiso, in
User Details:
67 y.o. lady with lupus and arthritis. Husband is able to load scooter.
I would recommend this scooter to anyone.
07/31/2020
Strengths:
Comfort, use, mobility
Reviewer:
theresa a. from phillipsburg, nj
User Details:
I cannot stay on my feet more than 10 minutes. So painful. The scooter helps me in stores and malls and on any trips I may have to take.
Very easy to operate scooter.
01/13/2020
Strengths:
This product seems to be well made
Weaknesses:
None at this time
Reviewer:
ronald g. from gary, in (caregiver)
User Details:
Not provided
Popular Related Products