Afiscooter S 4-Wheel
Loaded with luxury features, the perfect around-town all-terrain scooter with range up to 37 miles.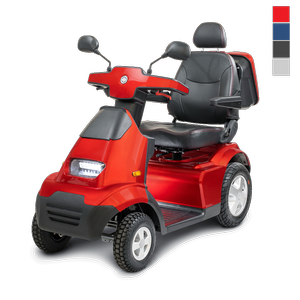 More Information on the Afiscooter S 4-Wheel
BACK TO TOP
Reviews
Viewing 1 - 5 of 5
Afiscooter S 4-Wheel: Review
05/28/2021
Strengths:
Well built with convenient controls.
Weaknesses:
Seat belt on the dual seat is far too short for even one rider let alone two.
Reviewer:
gerald p. from davis, ca
User Details:
No longer drives motor vehicles due to advanced age and limited night vision.
Quality Product with Some Reservations
10/25/2019
Strengths:
Seems to be well built. Quite fast on level and moderately hilly pavement, grass or gravel. Extremely comfortable 24in seat. Speedometer reports 11.5 mph on level terrain and maintains around 9.5 going up most hills with 400 pound rider.
Weaknesses:
Scooter does not do well off road except on grass for this 400 pound rider. Riding a woody path behind my house is problematical. The route is hilly and the scooter will not climb the hill as slowing down for the uneven terrain causes it to stop and once stopped it will not start up again and must be hand walked out. Very disappointed as this is one of the reasons I purchased it. It was also delivered with a missing part and a broken part but this was resolved within a month with a scooter repairman. He was unable to fix the lock box on the scooter but I figured out how to do it and now all is well. Also needs to have a much better manual and a Tech Manual provided. PLEASE!
Reviewer:
charles e. from bowling green, ky
User Details:
Disabled veteran neck[c3-c7] and lumbar[L3-S1] laminectomies with resultant severe neuropathy, numbness and weakness and numerous other maladies.
Love my scooter! The turning is a bit tight going through...
08/01/2019
Strengths:
Rugged. We love nature and this is a perfect fit for us.
Weaknesses:
It squeaks! The turning is a bit tight. The cup holder is useless.
Reviewer:
diane m. from seminole, fl
User Details:
Not provided
It took a little bit of the speed and turning rsdius
04/25/2015
Strengths:
Not the best weather to driving scooter around
Reviewer:
brian y. from syracuse, ny
User Details:
Not provided
Afiscooter S 4-Wheel: Review
06/22/2013
Strengths:
The ride due to the suspension is great. Has lots of power. The consistency of the speed control (up and down hills) is good. Like the placement of the lower headlights and like all the other lighting features, (turning/hazards lights) needed in front. This is my 3rd scooter, I myself think this is the best scooter I have had.
Weaknesses:
The color (silver) is unsafe color choice, blends in with pavement. Get too much reflection on the digital display from the sun (blinding). Needs lots of upper strength to steer (hard to turn). In addition you need to add hazard/turning signals on the front of scooter (side ones can't be seen) I am 5'10" and the seat sits up high, so for a shorter person there maybe problems with feet reaching the floor board. Would recommend when scooters (any kind) being designed that a disabled person is in on the engineering.
Reviewer:
dennis w. from fowlerville, mi
User Details:
I am a 59 yr old male, with difficulty walking.