Afiscooter S 4-Wheel
Loaded with luxury features, the perfect around-town all-terrain scooter with range up to 37 miles.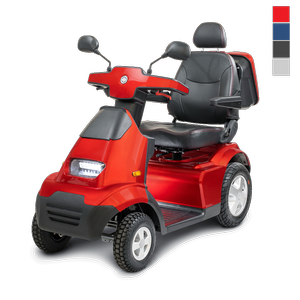 More Information on the Afiscooter S 4-Wheel
BACK TO TOP
Reviews
Viewing 1 - 1 of 1
I think it was a show room sample or well used, bolts were...
10/29/2018
Strengths:
Absolutely none, being a mechanic for 53 years it was a waste of money and a piece of junk, and those are the good qualities...the bad qualities are missing nuts and bolts, torn seat, battery cover loose, one dead battery, rub marks and missing parts. And it looks like I was sold a used floor model or a cobbled piece from some back room.
Weaknesses:
Just about everything it should only sell for $600.00 to $700.00 or taken off the market. I Am still waiting for a new seat, and missing parts ordered from Israel. One battery was no good and they sent me two new ones... The seat was ripped there were 2 bolts missing from the seat back stabilizer. Every battery cover hand screw was loose.
Reviewer:
gary c. from las vegas, nv
User Details:
69 year old a mechanic for 53 years...and restored well over 200 cars and rebuilt well over 350 car engines, owned 7 businesses. Never ran into junk