Afiscooter S 4-Wheel
Loaded with luxury features, the perfect around-town all-terrain scooter with range up to 37 miles.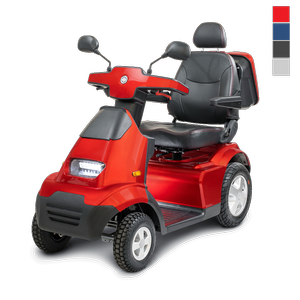 More Information on the Afiscooter S 4-Wheel
BACK TO TOP
Reviews
Viewing 1 - 12 of 35
My S4 is nothing less than my Mercedes.
07/14/2022
Strengths:
It 1400 watts motor is incredibly strong and it had luxury features.
Reviewer:
joseph w. from belleville, il
User Details:
I'm a 66 year old disabled veteran who have served in the United States Navy , I have DBD CLL and diabetes other than that I'm pretty healthy lol.
Truly is an awesome product with its comfort, size, and...
06/08/2022
Strengths:
D suspension, seat comfort, range, luggage capacity, height
Weaknesses:
Could maybe go a little faster -15 mph
Reviewer:
scott w. from templeton, ma
User Details:
Diagnosed with pompe disease 22 yrs ago, muscle wasting continuously until where I am today - totally dependent on scooters, Walker, mechanized bed
It is a bit wide for our sidewalks, leaves only 10" on each...
05/12/2022
Strengths:
It is very stable, gives a comfortable ride
Weaknesses:
If you have a passenger: One way or another you must reach across that person to steer
Reviewer:
imogene g. from carson city, nv
User Details:
go to store and swimming pool
03/16/2022
Reviewer:
robert b. from queensbury, ny
User Details:
age is 81 years old
Third Afikem scooter I have purchased for three homes.
02/12/2022
Strengths:
Suspension system makes very stable and comfortable to ride, reliability, design excellent, speed, battery life between charges
Weaknesses:
None. Display on older models appears to have been remedied.
Reviewer:
linda h. from heath, tx
User Details:
Over 65 with limited mobility
Afiscooter S 4-Wheel: Review
05/28/2021
Strengths:
Well built with convenient controls.
Weaknesses:
Seat belt on the dual seat is far too short for even one rider let alone two.
Reviewer:
gerald p. from davis, ca
User Details:
No longer drives motor vehicles due to advanced age and limited night vision.
Great product that comes with superior service
05/23/2021
Strengths:
This is like having a 2nd car. It has 2 set speeds. The slower set speed limit make it ideal along crowded sidewalks when you should be more careful. The full speed of 10 mph is enough for long stretches on the green belt. Speed limits are also adjustable. The adjustable chair makes it easy to get in and out. I bought the extra wide wheels for stability. I suggest buying the rear storage box which fits 2 small bags of groceries . I tested the battery and found it really holds up with a single charge. The bright red color is the envy of my neighbors. The buying experience was seamless, helpful and very professional. I also suggest buying the white glove delivery because they set it up, deliver it to your door and make sure you understand all the features.
Weaknesses:
Horn is not very loud, otherwise a superior product!
Reviewer:
william d. from boise, id
User Details:
77 year old man with Peripheral Neuropathy'
Sturdy, beautiful machine and comfortable
08/24/2020
Strengths:
quality craftsmanship and design
Weaknesses:
I have not found weaknesses at this time
Reviewer:
sandra w. from newman lake, wa
User Details:
The person using this scooter is a woman, 78 years old that has mobility issues and wants to be able to get around property to visit and work.
Afiscooter S 4-Wheel: Review
04/19/2020
Strengths:
The wheels are really good on the 4 wheel
Reviewer:
glenda s. from brady, tx (caregiver)
User Details:
the user is 82 and does not have a lot of use of his legs . it is very nice for him to get around
A good decision on my part.
03/19/2020
Strengths:
Size, construction, versatility.
Reviewer:
mike d. from st. simons island, ga
User Details:
My name is Mike i,m 82yrs had to sell my car also my 3wheel bike needed to get out and get some fresh air The Afiscooter S4 was the answer.
This one is built better, use more often, is better almost...
02/07/2020
Strengths:
The comfort of it as made for sitting, the roof and window protect sun and bugs. Also, it will not move until the charge unit is off of it, very important. Two different speeds nice. White glove delivery worth it. I got the regular wheels.
Weaknesses:
I have not found any to add.
Reviewer:
jan l. from bartow, fl
User Details:
I am a retired nurse and a veteran this is a scooter I have ordered as first at age 42, now 70yrs.
12/14/2019
Weaknesses:
May be difficult if a flat tire requires repair.
Reviewer:
c. r. t. from santa fe, nm
User Details:
76 year old male with bad ankle