Comforter PR-535 with MaxiComfort
The PR-535 is designed with comfort in mind and a full range of sizes.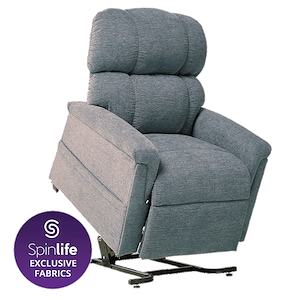 Golden Technologies
(Model No. PR 535)
VIEW ITEM
More Information on the Comforter PR-535 with MaxiComfort
BACK TO TOP
Reviews
Viewing 1 - 12 of 955
Good product with a good quality history
10/27/2023
Weaknesses:
Length of time between ordering and arrival
Reviewer:
brian d. from oostburg, wi (caregiver)
User Details:
Sister, wheelchair bound and uses the lift chair as a primary sitting chair daily. 
Promotes healing for this user
10/22/2023
Strengths:
I can elevate above my heart to remove edema in my right foot, the seat lifting alleviates painful cuts around knees.
Weaknesses:
I cannot find any flaws or weakness it is perfect for my situation.
Reviewer:
vickie e. from canandaigua, ny
User Details:
My age is 66, I needed this chair for a terrible skin condition as turning in a bed caused painful tears, especially around my knees and elbows.
I worry that the foam in it will not last how is the...
10/18/2023
Strengths:
I do enjoy the lift going up it is so much easier and for right now the foam is comfortable. waiting to see how long it will last.
Weaknesses:
it could have had more padding on the arms of the chair.
Reviewer:
jon w. from rochester, pa
User Details:
79 year old man can not sleep in bed because of back and leg pain. Chair needs to be used as a chair in the day time but as a bed also.
10/01/2023
Strengths:
As to strengths the PR-535 is made with quality material and preforms complex movements with ease. The appearance is high leved. Has quick movements buttons to preset positions and individual buttons for each movement. Then, it is comfortable to sleep in all night. A fine product.
Weaknesses:
Weakness,,, I have found none. Oh, the advertisement has a picture of the chair in the help to get up position. That is fine, but I don't think the legs full up picture is in the complete full up position.
Reviewer:
james d. from johnson city, tn
User Details:
I need to keep my legs above my heart. Such a machine at a working mans price is rare, for such a machine the price is right.
A very capable and comfortable chair
09/30/2023
Strengths:
Quiet motor and smooth movement. Lots of padding. Good material and comfort. Very stylish and looks great in my living room. Roomy chair to sit in. The color was not the same as it looked in the catalog, but color and material matched perfectly with the sample I received in the mail. Whew! What a relief.
Weaknesses:
There aren't any really. I wish the seat area was a tad bit longer so I could scooch back more in the chair. I'm guessing about 4 inches longer from back of seat to front edge. I also wish that the foot rest piece was a little longer. It was my understanding that this chair could easily accommodate someone who is 5'4. It doesn't. I am 5'3 and my feet are just off the edge of the foot rest. Right at my ankles. This is the one and only thing I hate about this chair!! I like the feeling that I'm laying in bed, where ALL of my butt, legs, AND feet are resting comfortably on the reclined chair. I also thought this chair was supposed to be comfortable enough to sleep in. Well it's not, because I can't sleep too well with my feet dangling off the edge. An extra 3 to 4 inches would be nice. I am aware that there is an extension piece that can be added to the chair, but it was too costly for me and a luxury I just couldn't afford at this time. Oh Well. I do wish that we were given more sample swatches than 3. 4 or 5 would have been nice. I had the advantage. This is my second Golden Technologies chair. I ordered pretty much same chair, style, color, and material. Just without the extras. All in all, I really,really like my new chair. I'm happy.
Reviewer:
rebecca v. from virginia beach, va (caregiver)
User Details:
I am 59 years old with mobility issues. I need right hip and right knee replacement surgeries. I have arthritis as well, and I am extremely obese.
09/21/2023
Strengths:
speed of motor, pre-sets on remote control and ability to adjust back and leg infinitely
Weaknesses:
The remote control falls off a chair side table very easily, maybe I need to not have it threaded through the seat. The instructions were not clear about where/how to hook up the remote.
Reviewer:
amanda f. from rockville, md (caregiver)
User Details:
80 year old, overweight, moderate dimentia, 5'5", not very mobile
09/14/2023
Strengths:
The many options it has and comfortable for your back
Reviewer:
celsa g. from san francisco, ca
User Details:
Mom battleling cancer ,had a big surgery and needed a comfortable chair with multiple options and ability to help her get up. Chair meets all expecta
I love my lift chair! My MIL has a Golden Tecnologies lift...
08/29/2023
Strengths:
My chair is very well-made. It is extremely comfortable. I love the lumbar support and the infinite positions. The heat is nice on my lower back.
Weaknesses:
It's not really a weakness of the chair, but I wish I had ordered the extended footrest. I am 5'8" and ordered a large chair. My feet hang over the end of the footrest just a little. I am making it work.
Reviewer:
teresa p. from decatur, tx
User Details:
I am a 59-year-old female with osteoarthritis and chronic back pain. I am going to have one of my knees replaced soon and wanted a lift chair.
08/21/2023
Reviewer:
nancy w. from martinsburg, wv
User Details:
I NANCY am the only one useing this product and i love it!
08/09/2023
Strengths:
It's strong enought to handle my weight. That's important to me. I got a medium height with wide seat chair. I have room to move my legs. I couldn't do that with my last chair my husband bought me for Christmas 2021. My weight was to much for it and it finally broke down. Because of my back, I usually sleep in my chair.
Weaknesses:
The only problem I'm having is my bottom fills like the left side is a little lower then the right side. I don't know if it's the filling is not right or it the bar in the back of the chair is off set (not even). Other that that I'm happy and in love with my chair.
Reviewer:
wanda k s. from fayette, al
User Details:
I have arthritis from my neck down to my toes, especially my knees. My chair helps me to get up into a standing position so I don't have pain standing
Straight 31 inch seat lift helps when getting up from...
07/13/2023
Strengths:
Can raise seat straight up to 31 inches and extend footrest with extension option upgrade to prevent my feet from dangling.  Helps me with getting up from chair and reduces swelling in my feet and ankles.  I'm 5 11 tall, 223 lbs.  severe progressive muscle weakness caused by inclusion body myositis (IBM).
Weaknesses:
Without tilt forward feature you need good core strength to position yourself at front of seat in order to get up from seated position.
Reviewer:
brian m. from winfield, il
User Details:
I have leg weakness due to inclusion body myositis (IBM).  The lift seat goes straight up to  31 inches, helps me get up from seated position.
06/17/2023
Strengths:
Love the massage and heat and the many variations of seating and laying options
Weaknesses:
Could use the heat lower at end of spine and just above and for a longer period of time
Reviewer:
margaret c. from jacksonville, il
User Details:
82 yr old with back and leg problems
Popular Related Products