Spitfire Pro SE 3W Extended Range
15 mile range in this incredibly compact scooter.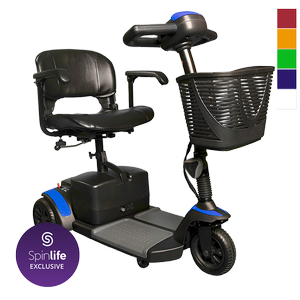 Drive Medical
(Model No. SFPRO317FS-21)
VIEW ITEM
More Information on the Spitfire Pro SE 3W Extended Range
BACK TO TOP
Reviews
Viewing 1 - 12 of 30
08/06/2023
Strengths:
Both our Scooters fit in the trunk of our 2012 Impla.
Weaknesses:
understanding the seat set up and getting the motor off the main frame.
Reviewer:
charles w. from draper, ut
User Details:
We use our Scooters in Vegas when we go to the NASCAR race, and to wheel around the strip. We are in our late 70's and my wife needs new knees .
07/20/2023
Weaknesses:
not large enough for me and heavier than I anticipated. Will not be able to use it as often as I had hoped.
Reviewer:
judie f. from texarkana, tx
User Details:
approximately 80 years old with great difficulty walking due to back problems.
I'm happy with my scooter
10/12/2022
Strengths:
My pet likes to run and I can keep up to him.
Weaknesses:
For what I want I have not found any.
Reviewer:
donald l. from williamsport, pa
User Details:
I am an 82 year old male with knee and hip problems. It is hard for me to walk my dog. The scooter is the perfect thing. We mainly walk the alleys be
Spitfire keeps me travelling.
08/20/2022
Strengths:
It is not too large.
Weaknesses:
Have not found any yet.
Reviewer:
faith f. from west allis, wi
User Details:
The box was well wrapped. The Spitfire is easy to assemble moves well. I have not used it for a great distance as 7 or 8 I can take my cat to Vet.
08/04/2022
Weaknesses:
Seat is a little small but tolerable. Plenty of power so be sure to reduce speed when operating in close areas or near people. Turning radius is too great for close areas.
Reviewer:
larry w. from blue eye, mo
User Details:
At 79 I depend on a travel scooter to maintain a quality of Life outside my home when transporting my power chair would be a hindrance.
07/28/2022
Strengths:
It is easy to breakdown and transport in any vehicle.
Weaknesses:
Headlight can be unstable on some terrain.
Reviewer:
jeffrey s. from san bernadino, ca
User Details:
I suffered a stroke with left side weakness and unable to use left hand and arm. This scooter is easy to control with one good hand. I
Very helpful for shopping and pleasure.
07/09/2022
Strengths:
Stays charged a long time and very fast.
Weaknesses:
I didn't find any weakness in this product.
Reviewer:
sharon k. from belleville, il
User Details:
I'm 81 and unable to stand for only a minute due to degenerative arthritis and back injuries.
Speed control is a plus on a 3 wheel scooter!
07/01/2022
Strengths:
This spitfire is a light and portable scooter and it allows my wife to go out shopping and is super easy to transport.
Weaknesses:
Hopefully the controller will last longer than 3 years like our other spitfire pro se 4W.
Reviewer:
mark k. from citrus springs, fl
User Details:
I useandmy wife uses this scooter. She has pad and is unable to walk long distances. This make going out possible for her.
06/17/2022
Reviewer:
lavelle w. from the villages, fl
User Details:
Not provided
06/15/2022
Strengths:
plenty of power
Weaknesses:
short turning radius and not very comfortable seat
Reviewer:
thomas w. from martinsburg, wv
User Details:
walking and standing limitations
06/11/2022
Strengths:
Fairly lightweight and easily packable for travel.
Weaknesses:
I do wish it had a cupholder for coffee and/or soda.
Reviewer:
suzanna j. from hicksville, oh
User Details:
Hi, I have some knee problems and have purchased this product mainly for vacations where I would have to walk more than two hours.
Good product, so far works well. Has a long battery life.
06/08/2022
Strengths:
Easy to use, easy to get on and off, speed control.
Weaknesses:
The turning radius is not tight enough, it is hard to enter and exit an elevator.
Reviewer:
sandra b. from denver, co (caregiver)
User Details:
My father is 93 and having trouble walking long distances so we bought him your Spitfire 3 wheeler. It is working great for him.