Spitfire Pro SE 3W Extended Range
15 mile range in this incredibly compact scooter.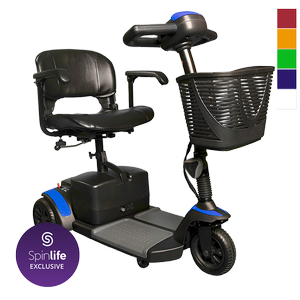 Drive Medical
(Model No. SFPRO317FS-21)
VIEW ITEM
More Information on the Spitfire Pro SE 3W Extended Range
BACK TO TOP
Reviews
Viewing 1 - 3 of 3
This is a covet way to get around if you have difficulty...
08/04/2022
Strengths:
Well built, strong body parts, functions are easy to control
Weaknesses:
When slowing down to stop sometimes it surges forward and if you are not on a totally smooth surface it can be a pretty bumpy ride.
Reviewer:
lou m. from palo alto, ca
User Details:
I'm 66yrs old with nerve damage in my feet and legs
A bit tippy but power and speed are there .
04/10/2021
Strengths:
Charge seems to hold,speed is there ! ! !
Weaknesses:
More tippy, not as maneuverable as we expected,seems to be challenged by the gravel driveway.
Reviewer:
richard t. from pensacola, fl (caregiver)
User Details:
Not provided
The scooter could use a headlight and the leds in the...
09/06/2019
Strengths:
The extended battery is excellent. I've had it about a month now, use it every day, and I'm still on the first charge.
Weaknesses:
The control panel leds are too bright and the scooter needs a headlight.
Reviewer:
daniel d. from mountain home, tx
User Details:
100% disabled by the VA, 72 years old, diabetic, overweight (but getting slimmer)