ROHO Mosaic
The shape fitting technology you need at a great value price!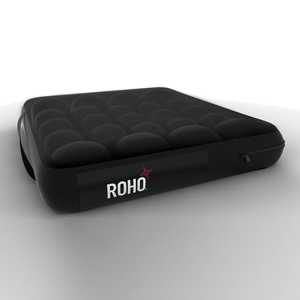 More Information on the ROHO Mosaic
BACK TO TOP
Reviews
Viewing 1 - 12 of 24
09/24/2022
Strengths:
good feel while sitting on it
Weaknesses:
none I can think of
Reviewer:
maria w. from westwood, nj
User Details:
I am a female with MS and sit all day.
some quality but difficult to get the right amount of...
03/16/2022
Strengths:
The workmanship has merits.
Weaknesses:
I worry about deflation because I know that it is not a permanent seal.
Reviewer:
issac m. from sheridan, wy
User Details:
male, 75 years old, spinal stenosis of unknown origin (per my MD).
As product is I'm happy with it.
07/29/2020
Strengths:
The first one I bought was in Sept of 2018 and lasted till June of 2020 or just before. This is when I purchased a new one for $20 less.
Weaknesses:
Hard for me to air up because of my hands but I get it to work. the first took two yrs to go bad but the 2nd ne already leeks out. This is why I purchased another going to put it in place and request a return on it.
Reviewer:
anthony d. from marengo, il
User Details:
I'm a 60yr old man that has been a Quadriplegic C8 since Aug of 2015.
07/22/2020
Reviewer:
william g. from harrisburg, pa
User Details:
73 yrs old Male para
05/22/2020
Strengths:
Hopefully durable, easy to pump up
Weaknesses:
Separate pump is easy to lose
Reviewer:
deborah t. from arvada, co
User Details:
Patient who fell, laid on floor for a couple of days and got a pressured sore
Needs frequent refilling of air (almost daily).
11/08/2018
Weaknesses:
Doesn't maintain it's shape due to air leakage. May be ok for someone who only sits on it or uses their wheelchair occasionally but I would not recommend it for someone who needs to use their wheelchair and their wheelchair cushion daily or completely for mobility.
Reviewer:
eve v. from boston, ma (caregiver)
User Details:
An 84 year old women (5'8", 155 lbs) who has a left sided paralysis due to a stroke. She is wheelchair dependent for mobility.
Good for those having to sit much of the time but...
10/29/2015
Strengths:
The air concept is excellent.
Weaknesses:
Sealing the air in after pumping.
Reviewer:
cheryl y. from farmington, pa
User Details:
So far Im not super impressed. The air doesn't seem to stay. We are constantly having to pump up the cushion again.
05/23/2015
Weaknesses:
Cushion has to be properly inflated or can be very uncomfortable
Reviewer:
patrick m. from cohoes, ny
User Details:
Not provided
Adjustments are not an easy task.
12/28/2011
Strengths:
Compoairing to the others, you are on the expesive side. It is an useful product, I like it so far.
Weaknesses:
It shifts with the weight distributions, sometimes it is uncomfortable.
Reviewer:
donald h. from piedmont, ca
User Details:
Not provided
08/09/2011
Reviewer:
ronald l. from rochester, ny
User Details:
Not provided
06/08/2011
Weaknesses:
Cheaply made, but you get what you pay for. There's no way I could use this on a daily basis. My butt and back would be killing me. lol I will keep it for an emergency back-up.
Reviewer:
sean s. from kingman, az
User Details:
Not provided
04/28/2011
Strengths:
No front value to interfere with legs while sitting in wheelchair
Weaknesses:
A little more rigid than the other cushion I had with smaller cells.
Reviewer:
jeanne j. from fort myers, fl
User Details:
72 year old female with M.S. confined to wheelchair most of the time.