ROHO Mosaic
The shape fitting technology you need at a great value price!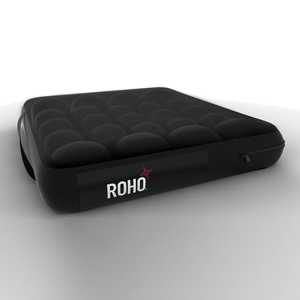 More Information on the ROHO Mosaic
BACK TO TOP
Reviews
Viewing 1 - 7 of 7
It stinks and it is too small
05/28/2017
Strengths:
There are none
Weaknesses:
Foam rubber is a lot better and costs less. If I could return it I would.
Reviewer:
gilbert r. from rancho cucamonga, ca
User Details:
Not provided
07/31/2014
Weaknesses:
Does not hold air. Have to constantly put air in it and still goes flat.
Reviewer:
brenda d. from homestead, fl (caregiver)
User Details:
Physical disability.
Too hard, not comfortable
07/05/2013
Reviewer:
chester h. from stockton, ca
User Details:
72 years old, surgery recovery
03/01/2013
Reviewer:
ronald h. from santa rosa, ca
User Details:
I use my cushion at all times when sitting. It has given me constant relief
07/15/2012
Weaknesses:
I never received the hard support that goes under the cushion. While at the hospital they gave me a laminated piece of wood to supplant what was missing. Also when I purchased it on line there was no mention of a pump, so I purchased a pump separately not knowing a pump came with the cushion. Now I have two pumps an extra $10 spent
Reviewer:
richard h. from branchburg, nj
User Details:
Not provided
10/01/2008
Reviewer:
mildred b. from reddick, fl
User Details:
verry bad product
08/17/2007
Weaknesses:
The quality is not as expected for the price., We are waiting on an RA to return the product for a refund
Reviewer:
ilene t. from jacksonville, fl
User Details:
wheelchair. Left side lame from stroke