Jazzy Passport
Folding convenience and Pride dependability come together in this ultimate travel power chair!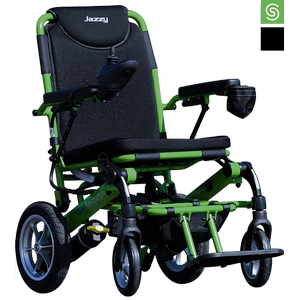 More Information on the Jazzy Passport
BACK TO TOP
Reviews
Viewing 1 - 12 of 43
11/09/2022
Reviewer:
charles s. from vineland, nj
User Details:
78, can't walk very far.
This is our second one of this model.
11/04/2022
Strengths:
Durability, comfort.
Weaknesses:
It clicks loudly when joystick is used.
Reviewer:
mike s. from mt sterling, ky
User Details:
Not provided
09/03/2022
Strengths:
Quality. Ease of use. Filled it's purpose.
Reviewer:
dotty s. from saint paul, mn
User Details:
Easy for me to use. Easy for family to transport. Is my 2nd one. First one destroyed in accident. would never consider any other.
Very good for people who can transfer to chair and go!
09/03/2022
Strengths:
It's narrow width and short wheelbase help to navigate into bathroom or small areas.
Weaknesses:
Consider just a little longer (+4 in) cable from controller to battery. When arm folds down, it's really stretched and comes out of cable guides.
Reviewer:
richard p. from lower burrell, pa
User Details:
I have MS and use the Jazzy Passport for in-home and travel vacation. Folds nicely into the back or trunk of car.
03/25/2022
Strengths:
Sturdy and nice looking.
Weaknesses:
The wheels came deflated and I'm having hard time getting air to the 35 limit.
Reviewer:
diane h. from savannah, ga
User Details:
Elderly woman who is wheelchair bound
07/17/2021
Strengths:
Folds easily, not too heavy to lift
Reviewer:
heidi g. from florence, sc
User Details:
Purchased my Jazzy Passport because it folds easily, easy to transport when traveling. Would recommend this highly.
Very well made high quality
05/29/2021
Strengths:
Easily transported and strong battery
Weaknesses:
A little bit heavy to easily lift for a small person.
Reviewer:
floyd o. from orlando, fl
User Details:
75 yr old diabetic with weak legs.
Great affordable purchase for special needs children or...
05/23/2021
Strengths:
More lightweight than most electric chairs. Chair folds and is easy to transport.
Reviewer:
melissa r. from west springfield, ma (caregiver)
User Details:
This is a fantastic wheelchair that we purchased for our Eight year special needs son. We love the power it provides in more difficult terrains.
She loves it just a little getting used to operating.
04/25/2021
Reviewer:
james p. from bradford, vt (caregiver)
User Details:
The user is my wife she is an amputee
Comfortable and worth the price.
04/09/2021
Strengths:
Comfortable, easy to use and manuver.
Weaknesses:
Haven't found any yet.
Reviewer:
linda m. from garland, tx
User Details:
66 year old physically disabled female. Enjoys the comfort and portability of this vs a mobility scooter.
replaces previous SmartChair i bbought online 6 years ago. ...
02/16/2021
Strengths:
my caregiver has no problem folding it up putting it in his suv. Larger back wheels definitely an asset.
Weaknesses:
could be more speed. a bit faster than my old chair but still a bit contrained.
Reviewer:
paul y. from sacramento, ca
User Details:
left side deficit due to mass strokes. unable to use manual chair.
Other than black marks on floor, I love it.
10/10/2020
Weaknesses:
Front tires leave black marks on the floors.
Reviewer:
ruth d. from homosassa, fl
User Details:
Not provided