LiteRider Envy
Up to 15.5 miles per charge, multiple seating choices and choice of colors!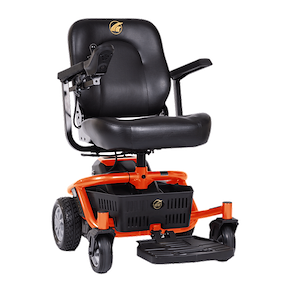 Golden Technologies
(Model No. GP162B)
VIEW ITEM
More Information on the LiteRider Envy
BACK TO TOP
Reviews
Viewing 1 - 12 of 164
10/20/2022
Strengths:
Small footprint works great with our narrow interior doorways. Swivel seat makes getting in and out of chair much easier. Joystick and speed control are simple and easy to use.
Weaknesses:
I would like to be able to remove the anti-tip wheels, as they get hung up on door thresholds and ramps.
Reviewer:
donn l. from orofino, id
User Details:
I am a 68 year old male with Muscular Dystrophy. This wheelchair provides me with great mobility and is very comfortable.
This power chair has changed my moms life (as her life has...
10/15/2022
Strengths:
The only reason I was able to buy her this chair was because you offered one that comes apart- so I can put it in the back of my small SUV. I have no hitch on my vehicle- I HAD to have one that I could disassemble for the car! It's been life saving for my mom in so many ways. Her mental health- quality of life- etc!
Weaknesses:
We've talked and talked together- trying to think of any weaknesses / but we honestly cannot think of any at this point! Granted, we've not had it very long - but we truly have no weaknesses that come to mind! We couldn't be happier with this product so far!
Reviewer:
kelly f. from lafayette, in (caregiver)
User Details:
My mother who has a knee that is bone on bone and cannot walk around stores. It had been a year and a half since she'd been to any stores.
Short wheel base a plus. Needs higher seat back for support.
10/13/2022
Strengths:
Turn radius with shorter wheel base
Weaknesses:
The seat is short in length.
Reviewer:
randel c. from mesa, az
User Details:
bilateral below knee amputee. 70 years old. diabetic with other ailments.
09/30/2022
Weaknesses:
chair back can pop out if leaned on
Reviewer:
joan b. from meridian, id
User Details:
had seizures and couldn't walk
09/24/2022
Strengths:
Easy to use and very easy to take along in car
Weaknesses:
Because of the width of front wheels on my model you need to be cautious when turning as it can feel tippy
Reviewer:
gloria n. from appleton, wi
User Details:
I am a 74 year old woman who has leg and ankle problems. It gives me the ability to take part in more activities in our community.
09/16/2022
Strengths:
Extremely easy to maneuver. overall, I'm highly satisfied
Weaknesses:
Could use Electric control to raise/lower foot support.
Reviewer:
jean t. from bellingham, wa
User Details:
Old spinal Cord Injury - Now age 83 male
It gives me dependability. I love it.
09/16/2022
Weaknesses:
The seat is a little short for me.
Reviewer:
judith p. from college place, wa
User Details:
Currently physically disabled.
Very good product quality and durability and performance.
09/01/2022
Strengths:
Small size and turn radius is very good compared with other products considered. For small houses such as ours, it would be better to have a tighter turn radius and shorter over all length to enable 90 degree turns from rooms to hallways.
Weaknesses:
Turn radius and overall length. An elevated seat feature would be ideal to enable kitchen work, which is limited due to fixed seat height.
Reviewer:
charles l. from lawrenceburg, in (caregiver)
User Details:
User is my spouse who must have a wheelchair to move around the home, and is 67 year old female.
Excellent maneuverability
08/26/2022
Strengths:
Slim enough to go through doorways in home. Higher seat to better access countertops. Longer foot rest. Easy to disassemble for transporting. Excellent turning radius. Responsive and quiet operation.
Weaknesses:
Even though I purchased upgraded seat, I still find it uncomfortable after a few hours
Reviewer:
karen y. from norwich, ct
User Details:
70 year old female with T5-6-7 spinal cord injury and L5-S1 stenosis and neuropathy
Same chair prev purchased. However, some modifications...
08/18/2022
Strengths:
Size, manuverability, & ease with which to breakdown to put in a trunk.
Weaknesses:
Stopping motion jerks person in chair.
Reviewer:
john j. from ocean isle beach, nc
User Details:
Male, age 80, double amputee.
08/12/2022
Strengths:
Easy to operate
Reviewer:
pat m. from clarkston, mi
User Details:
Not provided
08/12/2022
Strengths:
Easy to operate
Reviewer:
pat m. from clarkston, mi
User Details:
Not provided