LiteRider Envy LT & Envy
Upgrade to the LiteRider Envy for up to 15.5 miles per charge, multiple seating choices and choice of colors!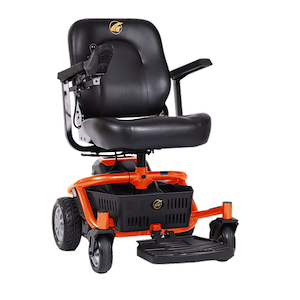 Golden Technologies
(Model No. GB161A /GP162B)
VIEW ITEM
More Information on the LiteRider Envy LT & Envy
BACK TO TOP
Reviews
Viewing 1 - 11 of 11
An Honest Powered Chair at a Reasonsable Price
02/05/2023
Strengths:
This is a strong product. Very well constructed so, as it'll be difficult to break down and load, so it will resist premature wear.
Weaknesses:
I'm thinking, a softer ride, so different tires and the work around that small detail, then a Chassis Change for a firmer revolving stool placement; no more wobble. Perhaps to the remote control, add a USB outlet. an 8-track tape player, and you're ready for 1985! Yes sir. [Please do not prep now for 1985!] But more in this present, I'm quite pleased with my chair, thank you.
Reviewer:
robert k. from richmond, va
User Details:
The user is someone you'd want to talk to. With the Envy chair, all is well, workable and yet the seat could be more secure, I'm happ
06/02/2022
Strengths:
Ease of entry, controller.
Reviewer:
raymond h. from tucson, az (caregiver)
User Details:
54yr female limited mobility
05/08/2022
Strengths:
maneuverability and easy disassembly for transport in any vehicle
Weaknesses:
short arm rests, standard seat is too shallow front too back, a bit of shock dampening in suspension would be nice
Reviewer:
paul n. from battle creek, mi
User Details:
enable movement over greater distances than before
05/04/2022
Weaknesses:
The seat is too small
Reviewer:
john s. from brecksville, oh
User Details:
Very unhappy with the seat I received, not comfortable and too small. Wanted and ordered the large seat as I am a amputee and need the extra room.
Very uncomfortable for anyone over 200 lbs.
03/31/2022
Strengths:
Nice basket under seat to carry objects.
Weaknesses:
Seat is too shallow for heavier person. It is not powerful enough to go over thresholds that are 1 inch high. Jerky startup. Battery is very heavy and has to be removed daily for charging.
Reviewer:
gloria m. from baton rouge, la
User Details:
I am a 282 lb, 72 year old female with severe arthritis in my knees and back. It is very painful to stand or walk.
01/08/2022
Strengths:
Weight and cost.
Weaknesses:
Easy to tip it over.
Reviewer:
marion f. from brownsville, tx
User Details:
Helps me get around due to lack of endurance and arthritis.
02/08/2021
Strengths:
Size. Great for smaller homes. I love the underseat storage basket. The price is good. Transportable. Arrived quickly
Weaknesses:
This is my second litrider. My first one had a ball bearing going and made a lot of noise while in use. This new one seems "jerky" and very slow when turning around. So it is not a smooth ride.
Reviewer:
elizabeth w. from gig harbor, wa
User Details:
Not provided
It's cute. Takes some getting used to but I like it.
09/21/2020
Strengths:
Depth of the seat
Reviewer:
neva l. from auburn, wa
User Details:
72 year old woman who is unable to walk do to spinal cord injury from scoliosis
the speed control is changed too easily and is difficult to...
06/26/2020
Strengths:
It goes anywhere in my house, moving between the kitchen island and the stove for instance.
Weaknesses:
The battery does not stay charged as long as I would like.
Reviewer:
jean s. from albuquerque, nm
User Details:
Not provided
Controller is a bit loose, seat could use better or more...
05/05/2019
Strengths:
Nice build & compact size, fits well in tight places, turns well and maneuvers easily, good height & width.
Weaknesses:
Seat needs more or better padding, controller is loose and the speed dial & the speed control can be sensitive, which could be dangerous.
Reviewer:
debra b. from margate, fl
User Details:
I am a young 64 yr. old, white female who suffers from constant, chronic pain of both legs, inability of use of legs, in chair during waking hours.
04/12/2019
Weaknesses:
Heavy & armrest too short
Reviewer:
martha j. from allentown, pa
User Details:
I have been wheelchair bound for 3 years now due to MS & needed a portable wheelchair for traveling out of house