Nitro Elite CF Rollator
Take control of your mobility with this lightweight carbon fiber rollator.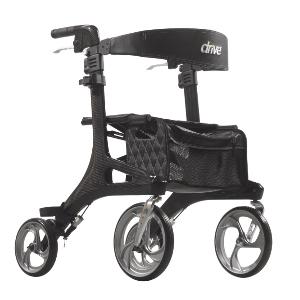 Drive Medical
(Model No. RTL10266CF)
VIEW ITEM
More Information on the Nitro Elite CF Rollator
BACK TO TOP
Reviews
Viewing 1 - 6 of 6
07/25/2023
Strengths:
the best thing about the walker. it can hold 300 lb plus people. the seat is wide enough for large bottoms.
Reviewer:
chris r d. from pueblo, co
User Details:
Love it. it has been an big help getting around. I need mine modified to fit my needs.
03/18/2020
Reviewer:
rafael p. from coral gables, fl (caregiver)
I enjoy using this rollator
11/08/2019
Strengths:
Light weight and easy to maneuver.
Weaknesses:
It could be a bit narrower.
Reviewer:
patricia b. from winter springs, fl
User Details:
I AM 54 YEARS YOUNG AND HAVE SCOLIOSIS THE ROLATER HELPS ME TO STAND STRAIGHTER AND GET AROUND FASTER IT IS LIGHT WEIGHT AND EASY TO FOLD ANS HAND
Nitro Elite CF Rollator: Review
07/27/2018
Reviewer:
frances c. from wakefield, ma (caregiver)
User Details:
Unable to walk on their own due to neurologic condition.
I am limited in handling weight, so the light weight of...
05/01/2018
Strengths:
Great strength, light to pick up, that is why I purchased for the weight.
Weaknesses:
The front wheel cannot swivel when the Nitro Elite is in a folded position.
Reviewer:
edwin h. from caldwell, tx
User Details:
When loading the Nitro Elite walker into a vehicle or storage, the front wheels are a bit large and will not reverse direction with out locking.
Need more time and use to assess before doing a complete...
10/23/2017
Strengths:
Light weight. Ease in loading and unloading when transporting her and the walker in a car to other locations. Maneuverability in the home for her. No exterior brake cables to handle or look at.
Weaknesses:
Sometimes she says it feels like it too light and doesn't feel stable enough. I have also noticed this when I visit and push it around. She doesn't like how the collapsible handle on the seat looks or feels when she sits on the rollator.
Reviewer:
lynette or linda r. from madison, wi (caregiver)
User Details:
Our Mom is 92 and is in her ninth year of Alzheimer's. She has arthritis and is more frail and unsteady all the time. She lives in a Memory Care Home