Nitro Elite CF Rollator
Take control of your mobility with this lightweight carbon fiber rollator.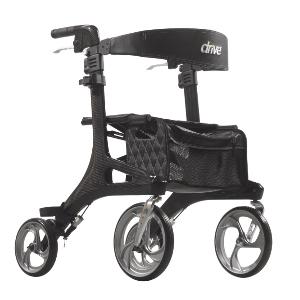 Drive Medical
(Model No. RTL10266CF)
VIEW ITEM
More Information on the Nitro Elite CF Rollator
BACK TO TOP
Reviews
Viewing 1 - 3 of 3
09/13/2019
Strengths:
Lightweight and can put more easily in car.
Weaknesses:
Seat is not as comfortable as some, but has to be to keep it lightweight. Storage area is harder to get to.
Reviewer:
julia w. from wichita, ks
User Details:
Not provided
Independence if lifting is a problem.
05/12/2019
Strengths:
It is there for walking, sitting if you need to wait in a line and standing isn't an option, and also a carrier of sorts for any packages you need to get to your room or car.
Weaknesses:
Wish the cost was lower, but realize materials to reduce the weight are not cheap.
Reviewer:
jill a c. from medina, oh
User Details:
To make it easier for me to load and unload a walker I can use to sit on, in and out of my car. I could lift this one without help.
Please reply to my weakness concerns shown below.
08/10/2018
Weaknesses:
1. After less that two weeks of moderate use, a front wheel fell off while I was using it. I almost fell over when the walker almost fell over. It turns out the screw holding the wheel in place had come totally use. I assume it was not tightened adequately at the factory. Hardly what I expected from such a high priced unit. 2. Included with the unit was a piece that apparently clamps on somewhere like the coffee cup holder does. I think I read somewhere that it is a cane holder, but I have no idea how to use it or where to install it. It has three holes on the "non-clamp" half of the piece. It is not mentioned in the instructions. 3. I wish the seat was made of two pieces of solid material sitting horizontal, instead of the slight curve of the soft fabric seat. This would enable me to use the seat as food tray without the worry about things tipping over because of the seat's curved shape.
Reviewer:
stephen o. from san francisco, ca
User Details:
I am a 76-year-old man with balance and limited walking problems. I spent the big bucks for this because of the lightweight carbon fiber feature.