Singlefold Ramp
Sizes available up to 5 feet long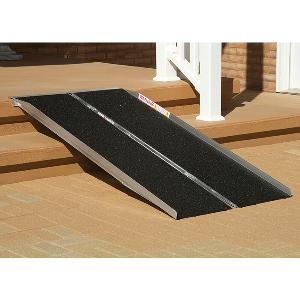 More Information on the Singlefold Ramp
BACK TO TOP
Reviews
Viewing 1 - 4 of 4
Great for inaccessible entrances
07/14/2019
Strengths:
Heavy but sturdy and safe
Reviewer:
judith p. from forest hill, md (caregiver)
User Details:
Ramp was purchased for our 47 yo daughter who is wheelchair bound. As we have aged we find we can do less lifting and pushing with her.
06/23/2016
Reviewer:
barbara c. from grundy, va (caregiver)
User Details:
Not provided
Very heavy for my wife but good quality
04/24/2016
Strengths:
Will take heavy weights, electric wheelchair ect.
Weaknesses:
Heavy to move.
Reviewer:
james c. from colville, wa
User Details:
My wife helps me with the ramp.
Good traction. Non-slip surface
08/23/2014
Strengths:
Feels secure. Good traction. Angle fine.
Weaknesses:
Side rails I agree may be for safety and strength, but should be underneath. This would not prevent a roll off anyway. Bottom end could be flared out so you could turn off easier to right or left. I must make a sharp turn when I get to bottom of ramp because of a porch railing in front of me.
Reviewer:
arthur k. from harpers ferry, wv
User Details:
COPD Carry ox. Bad knees and do not walk well. Use 4-wheel scooter in and out house. Side rails should be on underside so cart can make turns on and o