Jazzy Elite 14
Outstanding agility offered in this front wheel drive powerchair.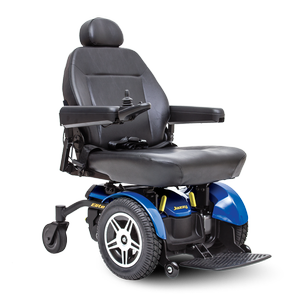 More Information on the Jazzy Elite 14
BACK TO TOP
Reviews
Viewing 1 - 12 of 23
Very pleased. Would recommend it to others
08/20/2023
Strengths:
Very easy to learn to operate, master the controls. Feels comfortable and safe. It is sturdy and well-built.
Weaknesses:
Replaced another electric wheel chair with Jazzy Elite. Jazzy longer so developing better bathroom maneuvers
Reviewer:
john g. from farmington, mo
User Details:
I am 97 years old, living in a nursing home. I am using it, in my room, taking it to the commode, getting on and off.
It. Is a great machine easy to use and it will go...
08/10/2023
Reviewer:
kay h. from orland, ca
User Details:
82 years old, legs and back are bad.
Could not get the chair in the bath room
03/23/2023
Weaknesses:
Too long front to back wheels
Reviewer:
wilbert l. from averill park, ny (caregiver)
Great chair...I really like it a lot.
05/12/2022
Strengths:
smooth, quiet ride, very easy to use, comfortable
Weaknesses:
It can be jerky & clunky in switching directions, seat rocks back & forth a little, feels like it might not be totally latched
Reviewer:
dale c. from greensboro, al
User Details:
Not provided
This is a well-built wheelchair you can tell just by...
03/08/2022
Strengths:
Craftsmanship is excellent
Weaknesses:
No back up beeper
Reviewer:
charles c. from elkton, md
User Details:
71 year old with spinal stenosis
Great Product and Spinlife made it easy to purchase and...
03/28/2021
Strengths:
Sturdy product, comfortable and easy to drive,
Reviewer:
robert w. from windham, nh
User Details:
I am actually bot the user and a caregiver, The wheel works out perfectly for me. It allows to perform as caretaker and relieves me of my issues.
This is my 4th wheel chair and is the best one for me.
08/04/2019
Strengths:
Bigger front tires can maneuver most anywhere, looks nice, short turn radius.
Weaknesses:
Rear wheels for turning in some places. Hard front tires. I would like if there was a pneumatic option.
Reviewer:
john b m. from warsaw, in
User Details:
have 2 prosetic legs use full time
Great chair for inside my home.
05/29/2019
Strengths:
Speed, comfortable seat, and turning ability.
Weaknesses:
Headrest is a little too short. I wish could adjust the footrest other than up and down more easily.
Reviewer:
terri m. from denton, tx
User Details:
I love this chair! Right turns, comfortable seat, fast
04/19/2019
Strengths:
comfort, well-constructed chair with good turning radius once you get used to it. Controlls are quick to respond.
Reviewer:
henry k. from pearland, tx
User Details:
A 100% disabled Vietnam Vet who is wheelchair bound
Performs as advertised, needs more rear clearance than...
04/14/2019
Weaknesses:
Requires significant programming to make it safe in a home. Should have been included with tech setup.
Reviewer:
richard w. from parker, co
01/29/2018
Strengths:
Easy to learn. Good power.
Weaknesses:
When backing up, it swings the back end around hard.
Reviewer:
terry s. from taos, nm
User Details:
I'm 63 with advanced MS.
10/07/2017
Strengths:
Easy to use and helps getting about better.
Weaknesses:
Back wheels are hard to give enough turning room for.
Reviewer:
sandra c. from oakhusrt, ca
User Details:
The chair is easy to use, but the wheels in back stick out farther than I thought and I have hit several cabinets and dug some wholes in them.