Go-Go Sport 3-Wheel
Up to 15.9 miles drive range per charge and a 325 lb. weight capacity.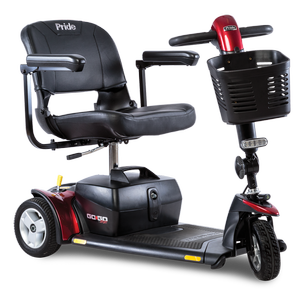 More Information on the Go-Go Sport 3-Wheel
BACK TO TOP
Reviews
Viewing 1 - 12 of 123
09/15/2022
Strengths:
Able to breakdown for easy travel
Reviewer:
sue c. from manhattan beach, ca (caregiver)
User Details:
Not provided
Two scooters fit nicely in the back of our Sienna Toyota....
06/05/2022
Strengths:
I feel secure when on the scooter. I can travel from store to store and feel safe. These scooters are easy to load and unload from our vehicle
Weaknesses:
I can't think of any weakness of this scooter
Reviewer:
dorothy a. from merced, ca
User Details:
My husband and I are 85 years young. This three wheel Go-Go Sport Travel Scooter is mainly used by my husband but I do use it sometimes.
03/11/2022
Reviewer:
winona s. from austin, tx
User Details:
I am a 77 age old woman who uses the scooter for long mid-range to longer range outings
After 7 yrs, I returned to purchase my second Go-Go Sport...
08/12/2021
Strengths:
I have run into walls, people, and over curbs but my scooter just takes it. I've lost shroud covers, scuffed up the outsides of the arm rests, even messed up one of the reflectors and it keeps going. My keychain has knocked the top off the horn button but it still beeps. I love speed so my normal speed setting is wide open. Yes I've been hard on my scooter but has stood the test.
Weaknesses:
In the beginning I would break it down and carry it in the back on my Honda Fit. The weight of the pieces got to be more than I could handle so I moved up to an outside lift on an SUV. That was my weakness, not the scooter's. The only other weakness and it's not really a weakness, I wish it had more clearance underneath so it could run on grass easier.
Reviewer:
marilyn m. from danville, il
User Details:
As a 79 year old lady I love Spinlife and Pride Scooters. My body is full of arthritis but I'm not ready to give up yet.
07/22/2021
Strengths:
light weight. It is easy to break down for traveling. Also the power system is TSA approved which makes this unit able to travel via Air
Weaknesses:
None that I found so far.
Reviewer:
george o. from boca raton, fl
User Details:
I recently underwent orthopedic surgery on my left leg. I was restricted to no weight bearing for three months.
Mabey should have bought a 4-Wheel. You said it was not...
06/18/2021
Strengths:
It is small for getting around inside, which I wanted and easy to take down. I did not wand a lift on the back of my vehicle. I have a Ford F150 and I think it will fit on the floor in back. I haven't tried that yet.
Weaknesses:
None People need to study the different models. You tube helps.
Reviewer:
don a. from oskaloosa, ia (caregiver)
User Details:
I am 79 years old. I have necrophily and sciatica therefore cannot stand or walk for extended time. I use it when that is an issue.
Great product, great sales people, smooth delivery
04/22/2021
Strengths:
Sturdy, long lasting battery, relatively easy to break down for transport by car.
Reviewer:
stephen w. from lakewood ranch, fl (caregiver)
User Details:
Not provided
will go no where else but to spin life and carl
03/07/2021
Strengths:
its the perfect product for my needs
Weaknesses:
have not found one yet
Reviewer:
patrick e. from melbourne, fl
User Details:
Carl is great take my needs and put me with the correct product
I am very happy with the scooter and the company.
10/22/2020
Strengths:
The scooter is easy to operate and easy to maneuver in the house.
Weaknesses:
The one weakness is the height of the threshold. It would be better if it was higher.
Reviewer:
brenda k. from cumming, ga
User Details:
I am a paralyzed from the waist down and unable to stand. The scooter gives me freedom move around.
We rented before we bought and this model met our needs.
05/07/2020
Strengths:
Capability to break down for transport, simplicity of operation, travel or distance capability
Weaknesses:
The seat is heavy and unwieldy. The height of the device could be raised 1-2 inches.
Reviewer:
terry p. from blacksburg, va (caregiver)
User Details:
my wife uses the scooterto move around the campus on which we live. she does not have the capability to walk very far and this opens up opportunities
Over all I am pleased with it.
03/20/2020
Strengths:
The extra two inches of room for feet and legs is great. The battery charging port on the tiller is very helpful.
Weaknesses:
The curved up sides of the seat make it very difficult for me, as I often have to slide sideways to get off. The turn radius is great except that the front end of the cart is very unstable if you need to use it for support to help you get on and off.
Reviewer:
shirley w. from summit, ut
User Details:
I have MS and have been unable to walk at all for several years, so I depend on an electric scooter to get me around.
Love my second Pride scooter.
03/17/2020
Strengths:
Ive owned the same Pride Elite 3 wheel scooter for some 8 years, so when it started to give out on me I knew I wanted another Pride. I needed something with just a little more leg room, so I tried the Sport 3. It's just what I needed.
Weaknesses:
It's just a littler bit heavier than the elite from what I'm told.
Reviewer:
ariel m. from virginia beach, va
User Details:
This is my second Pride scooter and I love it more than my first.