Jazzy Elite HD
This chair is built to last with color-shrouds to protect against wear and tear.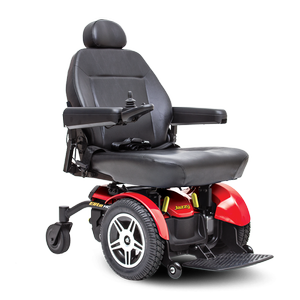 More Information on the Jazzy Elite HD
BACK TO TOP
Reviews
Viewing 1 - 12 of 14
09/14/2022
Strengths:
Comfortable seat, strength of frame
Weaknesses:
I thought there would be a key to lock off the chair. No info of what weekly--monthly maintenance is needed for chair.
Reviewer:
jim n. from frankfort, in
User Details:
I am 78 years old, over 300 pounds, and 5'11". Live in a CCC Retirement Center.
Good chair my second one.
01/31/2022
Strengths:
Very depenable
Weaknesses:
Footrest is a little low
Reviewer:
dean h. from pierre, sd
User Details:
Not provided
Spin life and Joe did GREAT. NEW JAZZY .VERY NICE PEOPLE....
01/25/2022
Strengths:
I had a Pride jazzy for about 4yrs. I depended on it .It held up great. I fixed it myself because Joe helped. Joe helped me with expertise and parts. So I bought a new one from SPINLIFE. GREAT VALUE GREAT FRIENDS..IM A HAPPY CAMPER!!!
Weaknesses:
None. SPINLIFE was so patient with me and with getting the right chair. THE JAZZY ELITE HAS THE BEST TURNING RADIUS...THE BEST BALANCE..THE BEST TRACTION. EASY TO LOAD IN MY WHEELCHAIR VAN.
Reviewer:
danny b. from ogden, ut
User Details:
I am Danny Beus.im 73yrs. Im a disabled veteran. I had a 614 hd. And loved it.when it came time for a new one i went to Spin life . SPIN LIFE RULES!
04/08/2021
Reviewer:
arthur p. from oakland township, mi
User Details:
Not provided
10/28/2020
Strengths:
It is well built ,strong and handle s very well .
Weaknesses:
Could have more ground clearance .
Reviewer:
russell g. from abbeville, la
User Details:
Mobility impaired combat injury 1968 ,the chair will provide help so I can do things like shopping that I no longer could do ,I really like this chair
2nd purchase of this chair. 1st chair lasted 4 years with...
12/05/2019
Strengths:
Capability to handle heavy weight and battery life.
Weaknesses:
motors on first chair needed replacing after 2 years
Reviewer:
alan e. from broken arrow, ok (caregiver)
User Details:
Chair is used by dependent son
Good product exactly as I expected. Great ordering...
06/20/2019
Strengths:
Strength and design, Drive wheels being in the front gives me better operation on uneven terrain.
Weaknesses:
Back or arm rests at the hinge point catches things when I back up. Could use a less open design. Not a big deal.
Reviewer:
daryl m. from wylie, tx
User Details:
64 yrs. old one leg, over weight. Very active,
Good chair for me, except I'm too tall for the arms. ...
05/11/2019
Strengths:
For my weight, it is a good solid chair. Had one just like it for 4 years but fell off my lift on a bumpy gravel road at 40 mph into 6 pieces.
Weaknesses:
Set screws will not keep arms at desired height. I will have to use lock tight or drive a bolt all the way through the steel tubing
Reviewer:
daniel l. from tabor, sd
User Details:
6ft 5in 385 man cannot walk
This is my third Jazzy, and by far the poorest quality of...
09/23/2018
Strengths:
Good power, sturdy build
Weaknesses:
Seat wobbles, chair rattles on bumps, foot rest VERY hard to move up or down. Control causes chair to jerk no matter how gently it's moved.
Reviewer:
joseph h. from coraopolis, pa
User Details:
60 years old, disabled
09/28/2016
Weaknesses:
Ease of handling
Reviewer:
joseph r. from normal, il
User Details:
78 unable to walk due to arthritis.
07/01/2015
Strengths:
Durable, reliable, comfortable.
Weaknesses:
Bare skin can stick to seat.
Reviewer:
gladys e. from minneola, fl (caregiver)
User Details:
A 58 year old man with MS who has no leg function.
The seat wasn't fit to order and this takes away from the...
01/11/2015
Strengths:
The damage of the mistrust, takes away from your company as a hold.Apparently this is a routine problems as your tips request clean language.
Weaknesses:
The support of sale to the customer. You should have a home rep to come to the customer, to avoid these types of problems.
Reviewer:
toni c. from pasadena, tx
User Details:
I am very unsatisfied