Jazzy Elite HD
This chair is built to last with color-shrouds to protect against wear and tear.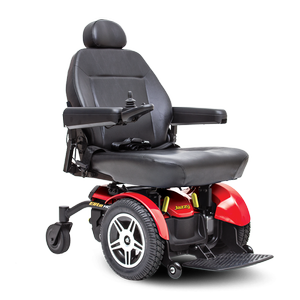 More Information on the Jazzy Elite HD
BACK TO TOP
Reviews
Viewing 1 - 5 of 5
09/14/2022
Strengths:
Comfortable seat, strength of frame
Weaknesses:
I thought there would be a key to lock off the chair. No info of what weekly--monthly maintenance is needed for chair.
Reviewer:
jim n. from frankfort, in
User Details:
I am 78 years old, over 300 pounds, and 5'11". Live in a CCC Retirement Center.
Good chair my second one.
01/31/2022
Strengths:
Very depenable
Weaknesses:
Footrest is a little low
Reviewer:
dean h. from pierre, sd
User Details:
Not provided
2nd purchase of this chair. 1st chair lasted 4 years with...
12/05/2019
Strengths:
Capability to handle heavy weight and battery life.
Weaknesses:
motors on first chair needed replacing after 2 years
Reviewer:
alan e. from broken arrow, ok (caregiver)
User Details:
Chair is used by dependent son
Good chair for me, except I'm too tall for the arms. ...
05/11/2019
Strengths:
For my weight, it is a good solid chair. Had one just like it for 4 years but fell off my lift on a bumpy gravel road at 40 mph into 6 pieces.
Weaknesses:
Set screws will not keep arms at desired height. I will have to use lock tight or drive a bolt all the way through the steel tubing
Reviewer:
daniel l. from tabor, sd
User Details:
6ft 5in 385 man cannot walk
This is my third Jazzy, and by far the poorest quality of...
09/23/2018
Strengths:
Good power, sturdy build
Weaknesses:
Seat wobbles, chair rattles on bumps, foot rest VERY hard to move up or down. Control causes chair to jerk no matter how gently it's moved.
Reviewer:
joseph h. from coraopolis, pa
User Details:
60 years old, disabled