Medlite Low Full-Electric Bed
This Full-Electric Low Bed can be lowered to 9.5" off the floor.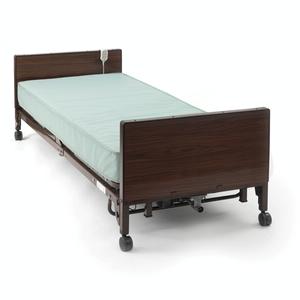 More Information on the Medlite Low Full-Electric Bed
BACK TO TOP
Reviews
Viewing 1 - 4 of 4
meets needs . A fixed position control panel would be...
05/05/2023
Strengths:
ease of use and extra low positioning feature
Weaknesses:
no fixed control panel
Reviewer:
ronald m. from findley lake, ny (caregiver)
User Details:
dialysis patient with severe mobility issues
Would get a different mattress if I could do it again
08/25/2019
Strengths:
Height adjustable side rails
Reviewer:
anita c. from natchez, ms
User Details:
Not provided
11/05/2016
Weaknesses:
Wiring could be better
Reviewer:
michael a. from stockton, ca
Do not regret this purchase. It has made his life much less...
08/20/2013
Strengths:
The ability of the bed to be raised and lowered for ease of getting into and out of the bed. The full electric function.
Weaknesses:
The metal connection for the rails sticks out too far. The rails are also too long - a shorter top rail, padded would be better. Removed the rails and installed a portable rail because of this - but now the metal connection hits his calves at exactly the place where he is most comfortable sitting before getting into the bed. Also, I wish that the bottom portion of the bed could be elevated to help with edema in the feet.
Reviewer:
sandra c. from tallahassee, fl (caregiver)
User Details:
63 year old man with broken vertebrae in back needing a 3rd operation and possibly more.