Medlite Low Full-Electric Bed
This Full-Electric Low Bed can be lowered to 9.5" off the floor.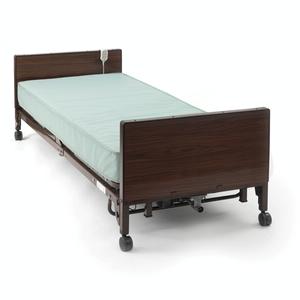 More Information on the Medlite Low Full-Electric Bed
BACK TO TOP
Reviews
Viewing 1 - 8 of 8
meets needs . A fixed position control panel would be...
05/05/2023
Strengths:
ease of use and extra low positioning feature
Weaknesses:
no fixed control panel
Reviewer:
ronald m. from findley lake, ny (caregiver)
User Details:
dialysis patient with severe mobility issues
Would get a different mattress if I could do it again
08/25/2019
Strengths:
Height adjustable side rails
Reviewer:
anita c. from natchez, ms
User Details:
Not provided
Very pleased and would recommend to others.
09/19/2018
Strengths:
Having rails on each side help me to be able to turn in bed.
Weaknesses:
The mattress is not as comfortable as expected.
Reviewer:
brenda n. from cypress, tx
User Details:
I am 70 year old female with multiple scoloris. I use a wheelchair because I no longer walk unassisted. Turning in bed is difficult.
11/05/2016
Weaknesses:
Wiring could be better
Reviewer:
michael a. from stockton, ca
The mattress is of very low quality and has little support.
03/12/2016
Strengths:
Staff caring for my Mother are appreciative of the lift/lower capability.
Weaknesses:
Mattress that came with the bed is very low quality.
Reviewer:
sherri m. from woodland park, co (caregiver)
User Details:
Mom in Memory Care facility with dementia.
My mom and the staff love this bed.
10/24/2015
Strengths:
We like the bed because it has 6-way movement and it helps to keep my mom a one-person assist.
Weaknesses:
We ordered the 1/2 rails, but had to return them as they would not fit. Basically, I don't see any weaknesses.
Reviewer:
cathy p. from papillion, ne (caregiver)
User Details:
My mom is 91 and in assisted living. Her mobility is severely limited, although she does walk some.
Sssembly instructions very poor and incomplete.
08/21/2014
Strengths:
Seems stable and well built. This bed is nicer looking then the usual hospital bed. Delivery was fast.
Weaknesses:
Assemby instructions are very poor. I have never determined how to lower the bed to 9 inches. It took 2 hours to assemble using trial and error. Mattress was a rock (premium foam) and could not be returned even if unwrapped. There should be an exchange policy if unused and unwrapped or sent back within 48 hours or something. We needed to invest in another mattress for my dad to even use the bed. Clip to hold controller comes off the bed frame too easily. Delivery company pretty much dumped the pallet at the end of the driveway in the rain,since I did not pay the extra to have it brought into the house. After buying a new mattress and getting it set up it is aceptable but I would not have bought it if I could have seen it first.
Reviewer:
charlene b. from norfolk, va (caregiver)
User Details:
Amputee in power chair who needs a bed to adjust in height to match chair height.
Do not regret this purchase. It has made his life much less...
08/20/2013
Strengths:
The ability of the bed to be raised and lowered for ease of getting into and out of the bed. The full electric function.
Weaknesses:
The metal connection for the rails sticks out too far. The rails are also too long - a shorter top rail, padded would be better. Removed the rails and installed a portable rail because of this - but now the metal connection hits his calves at exactly the place where he is most comfortable sitting before getting into the bed. Also, I wish that the bottom portion of the bed could be elevated to help with edema in the feet.
Reviewer:
sandra c. from tallahassee, fl (caregiver)
User Details:
63 year old man with broken vertebrae in back needing a 3rd operation and possibly more.