Medlite Low Full-Electric Bed
This Full-Electric Low Bed can be lowered to 9.5" off the floor.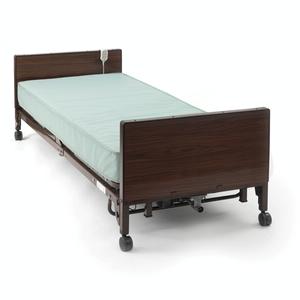 More Information on the Medlite Low Full-Electric Bed
BACK TO TOP
Reviews
Viewing 1 - 1 of 1
Sssembly instructions very poor and incomplete.
08/21/2014
Strengths:
Seems stable and well built. This bed is nicer looking then the usual hospital bed. Delivery was fast.
Weaknesses:
Assemby instructions are very poor. I have never determined how to lower the bed to 9 inches. It took 2 hours to assemble using trial and error. Mattress was a rock (premium foam) and could not be returned even if unwrapped. There should be an exchange policy if unused and unwrapped or sent back within 48 hours or something. We needed to invest in another mattress for my dad to even use the bed. Clip to hold controller comes off the bed frame too easily. Delivery company pretty much dumped the pallet at the end of the driveway in the rain,since I did not pay the extra to have it brought into the house. After buying a new mattress and getting it set up it is aceptable but I would not have bought it if I could have seen it first.
Reviewer:
charlene b. from norfolk, va (caregiver)
User Details:
Amputee in power chair who needs a bed to adjust in height to match chair height.