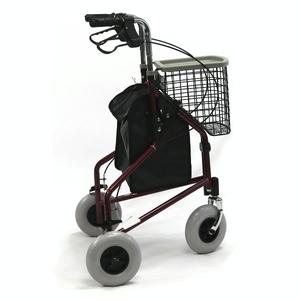 Karman Healthcare
(Model No. R-3600)
VIEW ITEM
More Information on the 3-Wheel Walker
BACK TO TOP
Reviews
Viewing 1 - 11 of 11
generally, a very good product as long as you are careful...
01/27/2021
Strengths:
light weight'narrow turning radius
Weaknesses:
if you put too much weight forward,you can tip over.
Reviewer:
john m. from grand junction, co
User Details:
age-73 inability towalk without an aid.
Excellent, well-made, easy to fold & store, maneuverable,...
10/13/2018
Strengths:
See entry abovec
Weaknesses:
Could be a bit wider between the handgrips p
Reviewer:
ronald l. from san francisco, ca
User Details:
I am a 78 yr old man who is the user of this walker. I chose it after careful research. This walker is light enough for me to pick it up when folded a
Having trouble with handles
08/29/2018
Weaknesses:
Adjusting handles
Reviewer:
anita w. from franklin, nj
User Details:
Not provided
Very good product, especially for the price.
11/18/2017
Strengths:
Easy to take in trunk of car.
Weaknesses:
No locking brakes.
Reviewer:
robert r a. from campbell, ca
User Details:
87 year old male with degenerative nerve disease. Use a full size walker at home and in the common areas of my retirement community. Take this in car.
Easy to use and lift in and out of car by myself.
08/23/2017
Strengths:
More stable than other 3 wheel walkers with large wheels for the outside.
Weaknesses:
Not able to sit down when I'm tired like on the 4 wheelers.
Reviewer:
mary lou s. from doylestown, pa
User Details:
I am mobility challenged. I cannot walk without some sort of assistance.
The Best walker on the market. VERSATILE
07/31/2016
Strengths:
Versatile, ease of use, durability. I have disabled for some time. I have used them all. The Only walker for inside/outside house!
Weaknesses:
The white tires have a short wear life on asphalte roads.
Reviewer:
stephen b. from camas valley, or
User Details:
Age 69/male/failed back surgery/wore out back, period.
It is a good product, easy to handle.
07/08/2016
Strengths:
It is not too heavy for my to get it in my V.W. bug.
Weaknesses:
so far I have not found any.
Reviewer:
catharina r. from roswell, nm
User Details:
I am a 92 years old woman and have a bit of a balancing problem. I am satisfied with the product.
06/16/2016
Reviewer:
carol w. from chesterfield, mo
It's great. Much taller than my older one which I really...
09/27/2013
Strengths:
Taller, attached basket,folds up easily and is easier to cruise in department stores with very narrow aisles.
Weaknesses:
The caps keep falling off the wheel cover nuts. It doesn't effect the operation at all just looks better.
Reviewer:
herbert b. from lusby, md
User Details:
JoA, retired, unsteady on feet due to spinal problems
Very maneuverable in our small house
08/29/2013
Strengths:
Small size, but stable
Weaknesses:
Basket attachment needs to be more firm.
Reviewer:
fred d b. from melbourne, fl (caregiver)
User Details:
My wife has Parkinsons disease.
06/21/2013
Reviewer:
jaime t. from houston, tx
User Details:
Not provided