Stimulite Classic
Most breathable cushion and cover on the market thanks to the honeycomb cells that circulate air and evaporate moisture.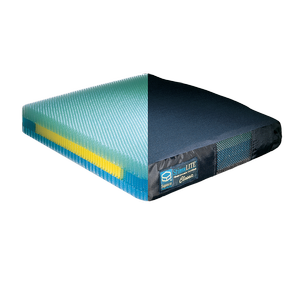 More Information on the Stimulite Classic
BACK TO TOP
Reviews
Viewing 1 - 12 of 22
07/07/2023
Weaknesses:
Not near enough cushion for someone as active as myself. 
Reviewer:
jeremy r. from yampa, co
User Details:
Cushion did not work for me. Called to try and return it but was told they do not accept returns on cushions so I now have a $350 cushion I can't use.
10/19/2022
Strengths:
Nothing hurts when you use it and there's no pressure
Weaknesses:
Absolutely no problems. I tried several cushions at rehab and this one was instant relief and no pressure and no pain.
Reviewer:
maryann w. from west chester, pa
User Details:
I have multiple sclerosis. I am prone to bed sores on my buttocks, but never when I sat in the wheelchair. My old cushion was no longer able to be use
02/06/2022
Strengths:
It does not collapse
Reviewer:
nidal k. from san jose, ca
06/09/2021
Strengths:
easy to use, firm seating but provides enough give so that he doesn't get skin breakdown
Reviewer:
andrea b. from oceanside, ca (caregiver)
User Details:
male, age 73, Parkinson's disease
Liked it enough that this is my second one.
04/01/2021
Strengths:
Comfortable, supports me, lightweight. The cushion itself is sturdy. First one I had worked for 5 years.
Weaknesses:
The last one I had, the cushion cover came apart at the zipper. Purchased a replacement one and it ripped in same place.
Reviewer:
karen s. from aptos, ca
User Details:
73 year old female left leg amputee
Seems to be well made cushion
10/16/2020
Strengths:
The honeycomb technology, Doesn't require air up.
Weaknesses:
Was a little hard at first but seems to be breaking in and getting a little more comfortable.
Reviewer:
rocky g. from palestine, tx (caregiver)
User Details:
58 year old Female, sitting most of the time due to Tibia Plateau injury, mobile on walker some, sleeps in recliner as well. Needs cushion for relief.
The cushion was as described and arrived in a timely manner.
03/25/2019
Strengths:
Ease of use, low maintenance.
Weaknesses:
Can't think of any.
Reviewer:
allan s. from grafton, nd (caregiver)
User Details:
A middle aged male with cereberal palsey
Stimulite Classic: Review
12/20/2018
Reviewer:
mel b. from scottsdale, az
User Details:
Not provided
09/12/2018
Strengths:
Washable, durable. Does not need air replacement like the Roho Cushion.
Weaknesses:
It would be nice to get just the cover without getting a new cushion. The cushion is expensive but worth it.
Reviewer:
joanne l. from huntington beach, ca
User Details:
This is my third Stimulite Classic Air Wheelchair Cushion. It does a great job of helping to prevent sores.
I don't know if I would recommend it as it did not work...
01/14/2018
Weaknesses:
Makes me feel like I will fall out of my chair.
Reviewer:
cindy l. from owasso, ok
User Details:
I use a wheelchair for all mobility.
02/26/2017
Strengths:
Provides comfort and support.
Weaknesses:
Tends to get a little warm at times.
Reviewer:
carl c. from pflugerville, tx
User Details:
40 yr old male double amputee.
02/25/2015
Strengths:
I find the Stimulite cushion works. Despite SpinLife's product label, it is NOT foam; it is a honeycomb of flexible plastics that conforms to your butt, supports it, and still lets it breathe. It is lightweight. It doesn't matter if it gets wet or is punctured, and it doesn't upset TSA goons when you go through airport security. And it lasts a long time—you get your money's worth.
Weaknesses:
It doesn't last forever.
Reviewer:
cecil b. from harrisburg, pa
User Details:
Paraplegic, spina bifida, 62; I've had serious problems with buttock pressure sores in the past.