Stimulite Classic
Most breathable cushion and cover on the market thanks to the honeycomb cells that circulate air and evaporate moisture.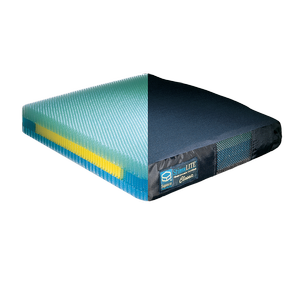 More Information on the Stimulite Classic
BACK TO TOP
Reviews
Viewing 1 - 5 of 5
Liked it enough that this is my second one.
04/01/2021
Strengths:
Comfortable, supports me, lightweight. The cushion itself is sturdy. First one I had worked for 5 years.
Weaknesses:
The last one I had, the cushion cover came apart at the zipper. Purchased a replacement one and it ripped in same place.
Reviewer:
karen s. from aptos, ca
User Details:
73 year old female left leg amputee
I don't know if I would recommend it as it did not work...
01/14/2018
Weaknesses:
Makes me feel like I will fall out of my chair.
Reviewer:
cindy l. from owasso, ok
User Details:
I use a wheelchair for all mobility.
02/26/2017
Strengths:
Provides comfort and support.
Weaknesses:
Tends to get a little warm at times.
Reviewer:
carl c. from pflugerville, tx
User Details:
40 yr old male double amputee.
bigger and harder then need for me
12/01/2010
Strengths:
light, does not pop, no holes, easy to use
Weaknesses:
larger then I needed my old one was thinner it may brake in with time not as soft as roho but good for travel
Reviewer:
kenneth k. from fremont, wi
User Details:
Not provided
Does not meet my expectation of softness
10/26/2008
Strengths:
I like the firmness of the cushion and the way it sits on my sling wheelchair.
Weaknesses:
I don't like that the front sides are not as firm as the rest, makes transfering difficult. I wish I had gotten the extra soft for my bony but.
Reviewer:
david n. from lake placid, fl
User Details:
57 year old muscular dystrophy