Stimulite Contoured
Rear dish featuring a "sweet spot" is a softer honeycomb layer for ischials and coccyx pressure relief.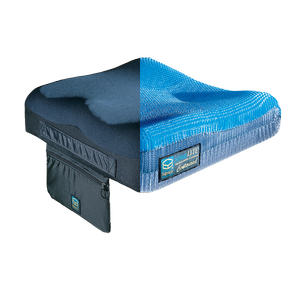 Supracor
(Model No. STIMULITE CONTOURED)
VIEW ITEM
More Information on the Stimulite Contoured
BACK TO TOP
Reviews
Viewing 1 - 12 of 43
11/24/2022
Reviewer:
dustin d. from wichita falls, tx
User Details:
I am a right leg, above knee amputee. This is my third Supracor cushion, and my new wheelchair is on its way with the fourth.
Best cushion I have ever used
07/01/2022
Strengths:
Durable and I love that it is washable
Reviewer:
elaine r. from virginia beach, va
User Details:
I am 60 years old with CP I have used this cushion for the past 20 years
This cushion checks off all of my needs
05/06/2021
Strengths:
Lightweight, contoured for pressure points. The cushion cover has a great pouch to carry my essentials. Very comfortable
Weaknesses:
I wished it were not so expensive
Reviewer:
lisa p. from elko, nv
User Details:
I am a T-4 paraplegic and I have been using the stimulate cushion for about 10 years. It is lightweight and gives me the support and balance I require
Stimulite Countour Cushion
07/03/2020
Strengths:
Easy purchase experience....repeat
Weaknesses:
It is the best cushion for my wife to sit on all day
Reviewer:
rod h. from rockledge, fl (caregiver)
User Details:
Not provided
Extremely comfortable cushion.
12/05/2019
Strengths:
Well made, the previous cushion lasted me 10 years, still using it as a back up!!
Reviewer:
sergio g. from marble falls, tx
User Details:
Not provided
06/22/2019
Strengths:
Cures and avoids pressure sores.
Reviewer:
loreta a. from lakeland, fl (caregiver)
User Details:
For my aunt, she sits all the time, poor standing/walking tolerance.Avoid sores.
08/22/2018
Reviewer:
lynn n. from lompoc, ca
User Details:
I am a paraplegic, this is the only cushion that works for me, I only wish insurance covered it, the cost is high for me without insurance help
Good product, great customer service!
01/17/2018
Strengths:
Fully washable (laundry bag included). Great quality. Incredible customer service!
Reviewer:
carolyn d. from concord, ca
User Details:
30 year old male with CP in a wheelchair full time. Need a cushion that helps stabilize me, aligns well, and reduces possibility of bedsores.
Cushion keeps Mom comfortable and in sitting position for...
12/15/2017
Strengths:
Keeps Mom upright, and her tailbone is protected.
Weaknesses:
Can't think of any.
Reviewer:
mary b. d. from lyndhurst, oh (caregiver)
User Details:
94-year-old who can't walk and is very weak and fragile.
Well worth it, works great.
07/16/2017
Reviewer:
joseph w. from griffith, in
User Details:
Needed to prevent skin breakdowns on my tailbone.
The product is good and is more comfortable than air...
04/09/2017
Strengths:
More comfortable than air cushions and adjusts well to the bottom.
Weaknesses:
The cushion cover does not let Velcro stick to it so it's hard to get the cushion to stay in place.
Reviewer:
jimmy c. from amarillo, tx
User Details:
Paraplegic with frequent pressure sores on back of legs.
This product provides the best combination of pressure...
02/15/2017
Strengths:
Pressure distribution Temperature control. Ease of cleaning.
Reviewer:
john e. from bethel, ct (caregiver)
User Details:
T4 complete paraplegic.