Stimulite Contoured
Rear dish featuring a "sweet spot" is a softer honeycomb layer for ischials and coccyx pressure relief.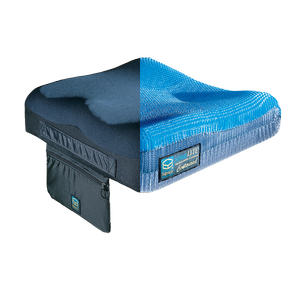 Supracor
(Model No. STIMULITE CONTOURED)
VIEW ITEM
More Information on the Stimulite Contoured
BACK TO TOP
Reviews
Viewing 1 - 6 of 6
03/10/2023
Weaknesses:
20 years wheelchair bound and worst cushion ever used.
Reviewer:
ron g. from portland, tx
User Details:
500.00 cushion used for 5 min.'s unusable for me, C.S. Replied to bad,   As customers or there loss mean nothing to them! Shop Elsewhere.
Stimulite Contoured: Review
06/02/2017
Strengths:
Good sturdy cushion
Weaknesses:
Enhances my back pain yet I need the support
Reviewer:
rebecca j. from farmington hills, mi
Seems fine so far to prevent sores.
04/24/2016
Strengths:
It's shape and construction of the inner pillow
Weaknesses:
Every chair pillow needs to come with two covers and this cover is not easy for transfer as it is a bit "sticky" that is it doesn't allow for an easy glide. My guess is that the zipper will break before it is worn out. Really pillow covers are important...spend more time on them. Give options
Reviewer:
jean r. from danville, ca (caregiver)
User Details:
My husband has MS and is wheelchair bound since he has no use of his legs.
not as thick as more expensive one are
11/27/2011
Strengths:
they are more comfortable when you have enough thickness from the honeycomb. they are better for the my positioning when i am in my chair for long time.
Weaknesses:
the honeycomb is not as thick as more expensive one.this seems a little less padding right under knees.
Reviewer:
cheryl m. from wheeling, il
User Details:
i am in my chair a good 10hrs except for being changed and therephy.cerabale palsy and i am 49 yrs old.
11/14/2011
Strengths:
The honeycomb stly of the coushion is very durable and soft all at the same time.
Weaknesses:
The countour specific cushion could be perfected to match each users bottom through measurements from the user to the designers.
Reviewer:
garrett w. from henderson, nc
User Details:
T-12 Parapalegic Very Active Work 40-50 Hours a week and have horses and dogs and cats. Enjoy the outdoor lyfestyle.
Nice cushion with zipper pouch
02/01/2011
Strengths:
Secure feel for seating
Reviewer:
gil m. from hueytown, al
User Details:
47 year old male spinal cord injury