Ergonomic S-305Q
Ergonomic frame for pressure reduction and quick release axles for ease of transporting in and out of a vehicle.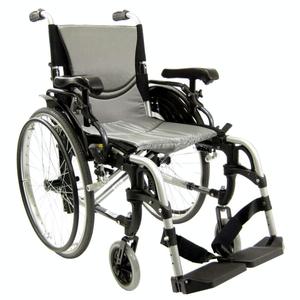 Karman Healthcare
(Model No. S-ERGO305Q)
VIEW ITEM
More Information on the Ergonomic S-305Q
BACK TO TOP
Reviews
Viewing 1 - 12 of 18
Comfortable, lightweight and rolls well.
02/29/2020
Reviewer:
linda m r. from new york, ny
User Details:
67 year old woman with brain trauma that has led to movement balance issues so walking leads to falls and leg injuries.
Makes my life much easier.
07/17/2019
Strengths:
All aspects of a w/c.
Reviewer:
connie m. from soddy daisy, tn
User Details:
I had damage to my spinal column and other problems as the years rolled on. I cannot walk but can stand. I fought with regular w/c for years.
Sturdy, very well engineered.
05/29/2019
Strengths:
Quality of materials and manufacturing.
Weaknesses:
None, so far.
Reviewer:
manoel o. from miami beach, fl
User Details:
Quadriplegic, 64 years old
Good product that travels well.
02/08/2019
Weaknesses:
Front tires sink into gravel and sand.
Reviewer:
carol h. from polkton, nc
User Details:
62 yr old, female, 5'0", 160 lbs, fractured femur, tibia and fibula, kneecap. Nerve damage to leg after breaks and surgeries. Some weight bearing.
07/30/2017
Strengths:
Protections can be added when needed.
Weaknesses:
Haven't found any yet.
Reviewer:
zachary e. from peacham, vt
User Details:
Zack is 41 years has 2 progressive neuro-diseases cannot stand, walk or speak.
07/21/2017
Strengths:
Light weight, looks really nice.
Weaknesses:
Armrest started to rattles and paint peeling off. Too expensive.
Reviewer:
anthony r. from burbank, ca
User Details:
Chair really looks good, I also got their 3 spoke magnesium wheel, but the paint on the armrest started peeling off.
Very nice product and excellent service.
05/26/2017
Strengths:
design and weight.
Weaknesses:
nothing so far
Reviewer:
charles c. from charleston, sc (caregiver)
User Details:
Stroke survivor. Not confined to a wheelchair but, most of her time is spent there.
very easy to flip over backwards and difficult to get up...
05/22/2017
Strengths:
a better fit in the car
Weaknesses:
flips over SO easy
Reviewer:
bruce d. from phoenix, az
01/18/2017
Strengths:
It's very light, and I like that I can pull the cushions off to wash them. The chair looks nicer than most. Arms come off if you don't need them and I like that the back folds in half. I can get in cars now and not just SUVs.
Weaknesses:
There are thin plastic protectors between your body and the wheel. The bolt keeps shaking loose from on of these and is constantly scraping the wheel. I also was very disappointed to find out that you cannot lower the seat on this chair. It is hardly adjustable at all, in fact. My first cheap chair from the hospital was significantly more modifiable than this chair is. If i could drop the seat, I would be much more comfortable and functional. Unfortunately, I paid out of pocket for this so I guess I'm stuck in this for a few years.
Reviewer:
cameron r. from braintree, ma
User Details:
I'm a 28 year old female who has very limited use of my legs (1-2 steps unassisted) caused by an illness.
11/04/2016
Strengths:
1. Lightweight 2. Easy to maneuver 3. Footrests can be swung underneath or to the side when you need them out of the way. 4. Very comfortable seat...even with chronic back pain, I don't need an added cushion. 5. Very cool looking with the wire spokes. 6. Very sturdy and well made. 7. Easy to fold up for transporting. 8. Removable upholstery. 9. Great breaking system. 10. Comfortable handles for your caregiver.
Weaknesses:
I really have not found any and I highly recommend this wheelchair. It is just so cool!!
Reviewer:
kim r. from vancouver, wa
User Details:
I had a spinal cord injury from a pain pump that resulted in right leg paralysis and have been in a wheelchair for 14 years.
Very comfortable chair. Fits his body well
04/17/2016
Strengths:
Strengths are the seating, brakes hold well and the leg attachments go on and off easily
Weaknesses:
No weaknesses really. Andy only weighs about 110 pounds.
Reviewer:
joseph m. from windsor locks, ct (caregiver)
User Details:
Andy has cerebral palsy. 36 years old. Cannot walk
12/20/2013
Strengths:
Seat Contour, flip back arms, easy to use brakes
Weaknesses:
Anti tip wheels extend back too far
Reviewer:
joe k. from mannington, nj
User Details:
Not provided