Ergonomic S-305Q
Ergonomic frame for pressure reduction and quick release axles for ease of transporting in and out of a vehicle.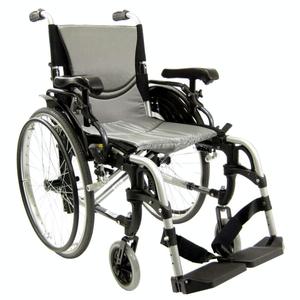 Karman Healthcare
(Model No. S-ERGO305Q)
VIEW ITEM
More Information on the Ergonomic S-305Q
BACK TO TOP
Reviews
Viewing 1 - 2 of 2
01/18/2017
Strengths:
It's very light, and I like that I can pull the cushions off to wash them. The chair looks nicer than most. Arms come off if you don't need them and I like that the back folds in half. I can get in cars now and not just SUVs.
Weaknesses:
There are thin plastic protectors between your body and the wheel. The bolt keeps shaking loose from on of these and is constantly scraping the wheel. I also was very disappointed to find out that you cannot lower the seat on this chair. It is hardly adjustable at all, in fact. My first cheap chair from the hospital was significantly more modifiable than this chair is. If i could drop the seat, I would be much more comfortable and functional. Unfortunately, I paid out of pocket for this so I guess I'm stuck in this for a few years.
Reviewer:
cameron r. from braintree, ma
User Details:
I'm a 28 year old female who has very limited use of my legs (1-2 steps unassisted) caused by an illness.
Returned, very disappointed
02/04/2012
Strengths:
The ergonomic seat which relieved lower back pain was wonderful.
Weaknesses:
Impossible to self propel. I needed someone to push me everywhere, making me dependent on someone to get me everywhere. I returned the chair. Very disappointed.
Reviewer:
susan s. from fairfax, va
User Details:
54yo independent woman with MS.