Compass Sport SLE
With a 19.5" turning radius this chair is great for smaller spaces and the large drive wheels can handle outdoor use.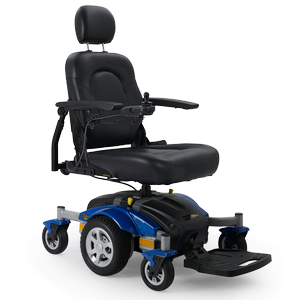 Golden Technologies
(Model No. GP605SLE)
VIEW ITEM
More Information on the Compass Sport SLE
BACK TO TOP
Reviews
Viewing 1 - 12 of 16
04/13/2022
Strengths:
Looks good. Tight turning radius.
Weaknesses:
Poor arm height adjustments, hard armrests. Jerky riding. Awkward power & speed controls. Hard seat. Bad return policy.
Reviewer:
andrea p. from east boothbay, me
User Details:
I am a MS patient in mid 70's and have used a power chair for 10 years. I am in this chair all day, I can't walk or stand & have limited strength.
Very happy with the product and would recommend it.
04/04/2021
Strengths:
Excellent, high quality construction. Beautiful design. Very comfortable seat. I used white glove service. It was extremely helpful. The service man was courteous, knowledgeable and professional.
Weaknesses:
User manual is almost unusable. Vague instructions and totally unclear illustrations. The power button/speed control should be redesigned to avoid accidental actuation. This device, like every power chair, can do physical damage or personal injury if used incorrectly. Safety should be a top priority. A serious shortcoming in this chair. Especially since the typical user may have mobility problems.
Reviewer:
shari j. from woodstock, ny
User Details:
Inability to walk due to a previous crippling disease.
Very pleased with Golden technologies product.
08/07/2020
Strengths:
Was less expensive than Pride Jazzy & overall better features.
Weaknesses:
The joy stick is very sensitive and sometimes hard to control speed. Takes some getting used to
Reviewer:
martha w. from citrus springs, fl
User Details:
I am 84 years old and for the past 8 years I have depended on power chair. Due to knee surgeries gone bad, I do not have a knee joint in my left leg
Good powerchair for the money.
01/26/2020
Strengths:
Solid frame makes this a very stable chair!
Weaknesses:
No weaknesses found
Reviewer:
howard w. from ormond beach, fl
User Details:
66y.o. male right above knee amputee...… the power chair is easy to use and get used to.
06/22/2018
Strengths:
Turns on its axis, seems to be well made too.
Weaknesses:
I wish the joystick would swing out of the way to allow you to more easily get close to a table. The foot rest was difficult to move (pretty well solved with oil).
Reviewer:
martin n. from tucson, az (caregiver)
User Details:
92 year old male who can barely walk with a walker.
Compass Sport SLE: Review
06/14/2018
Reviewer:
olga r. from miami springs, fl
User Details:
Not provided
Pleased with the product.
05/10/2018
Strengths:
Moderate size, ease in navigating in small areas, and color and style are all great.
Reviewer:
ophelia b. from baltimore, md (caregiver)
User Details:
64 year old male, had a stroke 8 years ago.
ALL GOOD CHAIR TO SALES AGENT JoAnne ext. 763.
12/29/2017
Reviewer:
susan j. from lindenhurst, ny
User Details:
THE WHEEL CHAIR IS FOR ME AND I JAVE MS. I HAVE THE CHAIR ABOUT 2 WEEKS AND SO FAR SO GOOD, I LIKE THE WAY IT TURNS IN SMALL SPACES I WOULD RECOMEND.
Would be best for a man or large woman.
01/04/2017
Strengths:
Turning radius, quality
Weaknesses:
Very short , hard arm rest. Longer padded arms would've been much better. A padded foot rest would be nice too. Hard iron hitting the her feet has caused some pain. I have managed to lengthen the arms for her and pad them myself.
Reviewer:
todd s. from austin, tx (caregiver)
User Details:
Unable to walk 65 year old woman with continence issues.
11/09/2016
Reviewer:
donald p. from venice, fl
User Details:
89 YEAR OLD DISABLED VET; SPORT IS VERY SATISFACTORY; GOOD PRODUCT.
10/25/2015
Strengths:
Ease of assembly, vendor and manufacture support. First chair received was damaged in shipment, reported to manufacture thru SpinLife; received replacement within a week.
Reviewer:
david m. from manhattan, ks
User Details:
79-year-old male, suffers from arthritis, partial foot amputee.
Ease of operation and small turning radius.
10/22/2015
Strengths:
Manufacturer support; initial shipment was damaged, manufacture was contacted by SpinLife and I received a new chair within a week. Construction of chair is solid and easy to assemble.
Reviewer:
david m. from manhattan, ks
User Details:
79-year-old male, foot amputee.