Compass Sport SLE
With a 19.5" turning radius this chair is great for smaller spaces and the large drive wheels can handle outdoor use.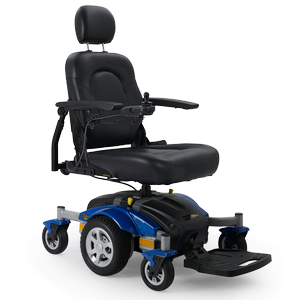 Golden Technologies
(Model No. GP605SLE)
VIEW ITEM
More Information on the Compass Sport SLE
BACK TO TOP
Reviews
Viewing 1 - 3 of 3
Very happy with the product and would recommend it.
04/04/2021
Strengths:
Excellent, high quality construction. Beautiful design. Very comfortable seat. I used white glove service. It was extremely helpful. The service man was courteous, knowledgeable and professional.
Weaknesses:
User manual is almost unusable. Vague instructions and totally unclear illustrations. The power button/speed control should be redesigned to avoid accidental actuation. This device, like every power chair, can do physical damage or personal injury if used incorrectly. Safety should be a top priority. A serious shortcoming in this chair. Especially since the typical user may have mobility problems.
Reviewer:
shari j. from woodstock, ny
User Details:
Inability to walk due to a previous crippling disease.
Good powerchair for the money.
01/26/2020
Strengths:
Solid frame makes this a very stable chair!
Weaknesses:
No weaknesses found
Reviewer:
howard w. from ormond beach, fl
User Details:
66y.o. male right above knee amputee...… the power chair is easy to use and get used to.
Would be best for a man or large woman.
01/04/2017
Strengths:
Turning radius, quality
Weaknesses:
Very short , hard arm rest. Longer padded arms would've been much better. A padded foot rest would be nice too. Hard iron hitting the her feet has caused some pain. I have managed to lengthen the arms for her and pad them myself.
Reviewer:
todd s. from austin, tx (caregiver)
User Details:
Unable to walk 65 year old woman with continence issues.