SL Patriotic Flag Power Lift
Transport your scooter or power chair with pride with this patriotic laser cut designed lift.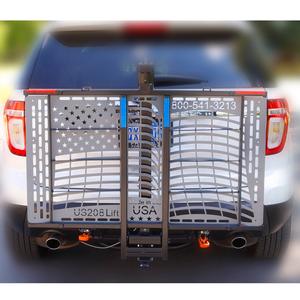 WheelChair Carrier
(Model No. US208-Spin)
VIEW ITEM
More Information on the SL Patriotic Flag Power Lift
BACK TO TOP
Reviews
Viewing 1 - 6 of 6
04/11/2021
Strengths:
IT GET THE JOB DONE, I CAN TRANSPORT WITHOUT HELP
Weaknesses:
SWING ARM IS DIFFICULT TO USE, PINS HARD TO REMOVE.
Reviewer:
peter s. from dresher, pa
User Details:
WHEELCHAIR, 76 MALE
Must have upper body strength to secure mobility device to...
09/18/2020
Strengths:
Loads from either side. Electric power lift. Easy to assemble (with the exception of the installation of the wiring.) Reasonably priced.
Weaknesses:
Requires some expertise to wire. Mechanism for securing the mobility device to the carrier is cumbersome and requires considerable upper body strength.
Reviewer:
paula t. from valley center, ca
User Details:
I'm a 75 year old woman with severe arthritis which makes mobility both limited and painful. I'm assisted by a mobility scooter.
09/09/2018
Strengths:
It seems good so far
Weaknesses:
We have not had to use it much
Reviewer:
judy b. from joshua, tx (caregiver)
User Details:
My husband had a stroke and is pretty helpless on left side I am not very big. It had been helpful and fairly easy for me to tie down
No motor makes this difficult to use
05/25/2017
Weaknesses:
Lift is neither a 1 1/4" nor a 2" receiver and does not have its own motor, which means it juts out from vehicle longer than it should and is difficult to use. Not impressed but with no other options we simply have to make due
Reviewer:
tevis a. from o'fallon, il
User Details:
Scooter owner with severe mobility issues
Design is well thought out, but not easily augmented
07/24/2015
Strengths:
Design and concept are awesome.
Weaknesses:
It does not work well for me. It is expensive because I am a widow. I have to hire someone to do installation. It does not fold down to the ground, but lifts the back of my truck if I try to use it.
Reviewer:
charlene c. from fayetteville, nc
User Details:
Age 73 with severe arthritis that causes difficulty walking and standing
SL Patriotic Flag Power Lift: Review
04/19/2014
Reviewer:
joe z. from las vegas, nv
User Details:
Not provided