M2
Four separate gel compartments reduce shearing and heat build-up while evenly distributing the gel and providing relief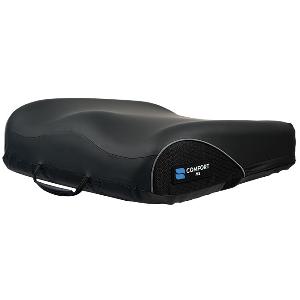 More Information on the M2
BACK TO TOP
Reviews
Viewing 1 - 10 of 10
I will only use your products
09/04/2022
Strengths:
Always dependable,
Weaknesses:
Only the zipper
Reviewer:
anna h. from louisville, ky
User Details:
comfortable, stays in place, keeps its shape and does it's job except the zipper broke,
returning items is a hassel and takes a month or longer for...
04/19/2019
Strengths:
Very good quality cushion just the wrong size for my chair
Reviewer:
thomas r b. from seal beach, ca
User Details:
The M2 cushion was very nice, I returned it, was the wrong size for my wheelchair. still waiting for my refund so I can purchase another.
This product is well built and comfortable.
10/29/2018
Weaknesses:
When shifting my weight from the bed to the wheelchair , from the side, my coverall clothes do not slip easily on the wheelchair cushion fabric.
Reviewer:
sheila w. from oakville, wa
User Details:
Amputee - left leg. Wheelchair bound.
04/20/2018
Reviewer:
jason s. from la porte, tx
User Details:
Not provided
21 years of experience, keep the Contour & fix the suggested
02/09/2017
Strengths:
Contour & cover
Weaknesses:
Thin gel membrane foam
Reviewer:
james t. from anna, il
User Details:
I like the Contour of this cushion, but this is the third one I've had in a year gel pads need a thicker membrane the foam needs to be more dense.
Very good at relieving pressure
10/05/2014
Strengths:
Uniform pressure relief
Weaknesses:
Cushion is quite heavy. Velcro strips underneath are necessary, but can be unhandy.
Reviewer:
patricia t. from raleigh, nc
User Details:
65-year-old female paraplegic
05/16/2013
Weaknesses:
Surface to help in transfer, slidding
Reviewer:
edmund w. from kenosha, wi
User Details:
I am A 74 year old male that is in a wheel chair due to having Polio when I was 14. I needed more comfort and a slippery surface to help in transfer.
I am undergoing more tests so I can't give a fair statement...
03/14/2013
Strengths:
firm but comforty
Reviewer:
debbie b. from san marcos, ca
User Details:
58, arthritis in back specially in hips. Have difficulty sitting for long periods of time. The M2 has made it bearable to sit in the car for 8 hours
Extremely pleased with cushion.
06/30/2012
Strengths:
Cushion stays in place. Very comfortable.
Weaknesses:
This cushion is heavier than my previous t-foam cushions, so that has taken some adjustment.
Reviewer:
patricia t. from raleigh, nc
User Details:
I am a paraplegic, confined to a wheelchair for 30 years. For the first time ever, I've started getting break-down on my buttucks.
04/29/2012
Reviewer:
victor m. from harrisburg, pa
User Details:
I am 61 yrs. old with limited leg mobility which is progressing as I get older. I sit in my chair about 14 to 18 hrs. a day.