LiteRider 3-Wheel
Heavily treaded 3" wide tires provide greater stability and traction combined with 22AH batteries for a longer drive range.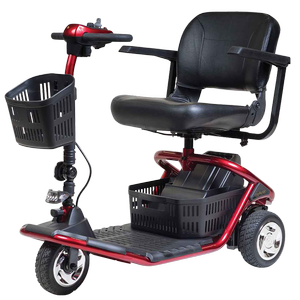 Golden Technologies
(Model No. GL111)
VIEW ITEM
More Information on the LiteRider 3-Wheel
BACK TO TOP
Reviews
Viewing 1 - 12 of 42
10/14/2022
Reviewer:
robert l. from oconomowoc, wi (caregiver)
User Details:
Bought for a friend. She likes it a lot. She states that it's easy to get into and out of and the rounded structure of the frame allows freer movement
05/25/2022
Strengths:
Wider/longer base and higher/more comfortable seat
Reviewer:
janice g. from converse, tx
User Details:
Not provided
Not the scooter I wanted, but an improvement over my old...
05/14/2022
Strengths:
Relatively comfortable seat and more speed. More honest to its true range than my old Buzzaround, but still takes a featherweight, slow driver to get the most out of it.
Weaknesses:
Too high off the ground for me to comfortably brace myself. Less torque them my old Buzzaround - the slightest incline will bring it to a dead halt. I really wish there was a way to put a more powerful battery in this.
Reviewer:
ken s. from columbus, oh
User Details:
55-year-old male amputee.
Great scooter with super turning radius, 2 baskets, long...
03/12/2022
Strengths:
tight turning radius, 2 baskets, long battery life, portability, 3 wheeler, zippy, easy to ride
Weaknesses:
zip, zero, nada
Reviewer:
marilyn j b. from houston, tx
User Details:
73 years old. Bought for myself after renting scooters for years. Severe back problems: scoliosis, herniated disks, spinal stenosis. Helps me greatly!
whoever developed this should be very proud
03/02/2022
Strengths:
the overall features
Weaknesses:
Some people think it's a little fast for me - don't care what they think
Reviewer:
mary y. from appleton, wi
User Details:
I am a 67 year old amputee. I was absolutely thrilled that I could set the seat down another notch as I am a bit on the short side
Easy to maneuver, load and unload.
09/26/2020
Strengths:
Maneuverability and battery life.
Weaknesses:
You can't adjust the seat and the armrests won't stay tightened up.
Reviewer:
eli s. from herndon, wv
User Details:
I am a paraplegic, from waist down, and have a wheelchair at home. When we travel, the scooter makes it easier for me and my wife.
easy to assemble and transport. No hassle on airlines.
01/20/2019
Strengths:
Can be transported, by car, bus, airline with ease
Weaknesses:
Wish someone would invent a longer lasting battery
Reviewer:
jim m. from oxford, ms
User Details:
70+ paraplegic
Overall a very good scooter.
07/18/2018
Strengths:
The metal frame is very sturdy.
Weaknesses:
The seat could be lowered a bit - it feels a little top heavy.
Reviewer:
tanna b. from anderson, in
User Details:
65 year old female with spinal-cerebellar degeneration.
The scooter is very ease to both use and operate.
05/10/2018
Strengths:
Turns very well and seems sturdy for a three-wheel scooter as you drive.
Weaknesses:
Signal and tail lights would be nice.
Reviewer:
george s. from tuscon, az
User Details:
73 year-old disabled veteran.
Good features at the price point.
03/15/2018
Strengths:
Turning radius, seat height (with adjustable positions), and very comfortable.
Weaknesses:
Small tires and anti-tip wheels make it difficult to clear many obstacles. Low ground clearance causes it to get stuck on some off-road terrains.
Reviewer:
walter b. from clermont, fl
User Details:
73 year old, post-polio user of scooters for last the 25 years.
01/16/2018
Strengths:
Very easy to disassemble and reassemble
Weaknesses:
The seat at its lowest connection is still too high from the ground, I am 5 ft 8 inches and when getting off the scooter my feet are still about 4 inches off the ground, my amigo scooter I have now my feet touches the ground when getting off.
Reviewer:
david f. from new york, ny
User Details:
Male 84 years old, using power scooter for 25 years I used amigo and ranger scooters.
10/06/2017
Strengths:
Lightweight, faster than most.
Weaknesses:
Seat depth too short, choppy ride.
Reviewer:
diana k. from valrico, fl
User Details:
71 year old, female, bi-lateral amputee, have been using scooters and power chairs for 20 years plus.