LiteRider 3-Wheel
Heavily treaded 9" tires provide greater stability and traction combined with 22AH batteries for a longer drive range.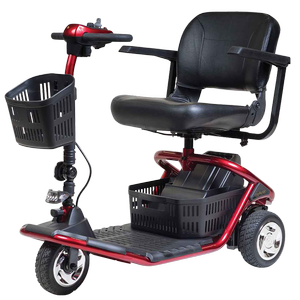 Golden Technologies
(Model No. GL111)
VIEW ITEM
More Information on the LiteRider 3-Wheel
BACK TO TOP
Reviews
Viewing 1 - 8 of 8
easy to assemble and transport. No hassle on airlines.
01/20/2019
Strengths:
Can be transported, by car, bus, airline with ease
Weaknesses:
Wish someone would invent a longer lasting battery
Reviewer:
jim m. from oxford, ms
User Details:
70+ paraplegic
Good features at the price point.
03/15/2018
Strengths:
Turning radius, seat height (with adjustable positions), and very comfortable.
Weaknesses:
Small tires and anti-tip wheels make it difficult to clear many obstacles. Low ground clearance causes it to get stuck on some off-road terrains.
Reviewer:
walter b. from clermont, fl
User Details:
73 year old, post-polio user of scooters for last the 25 years.
01/16/2018
Strengths:
Very easy to disassemble and reassemble
Weaknesses:
The seat at its lowest connection is still too high from the ground, I am 5 ft 8 inches and when getting off the scooter my feet are still about 4 inches off the ground, my amigo scooter I have now my feet touches the ground when getting off.
Reviewer:
david f. from new york, ny
User Details:
Male 84 years old, using power scooter for 25 years I used amigo and ranger scooters.
11/12/2015
Strengths:
Nice battery and nice appearance...minimalist scene
Weaknesses:
I wish there was more ground clearance and larger diameter tires. The three wheel use is less easy on a grass or uneven surface. It is a bit heavy, but I understand that part. It could easily be oh so much better.
Reviewer:
robert h. from pennington gap, va
User Details:
He's a 77-year-old who would like to get out and get around; at the mall and in his yard.
My only suggestion would be the seat. It needs to also move...
06/22/2015
Strengths:
Size and height of the seat and its ability to turn 360 degrees.
Weaknesses:
Seat needs to be adjustable for forward and backward adjustment.
Reviewer:
michael g. from kingston, tn
User Details:
I'm a male, 68 years old. I weigh 230 lbs. and am about 5 ft. 10 in tall. I have Myofribrillar Myopathie (MD) but I'm not wheelchair-bound yet.
The only reason I didn't give all 5's is because it is too...
11/06/2014
Strengths:
Good quality- strong, tubular frame with plenty of room for feet and still room for storage under seat in basket. Also, engine seems strong.
Weaknesses:
Too high to get into seat without help or reach down to ground for shorter people.
Reviewer:
tanna b. from anderson, in
User Details:
Female, 61, constant daily use, spino-cerebellar degeneration
08/23/2013
Strengths:
Easy to assemble
Weaknesses:
We have a difficult time with it fitting in my father's Malibu truck so we have to take my Nissan Maxima. We are now trying to find a different vehicle that the scooter will fit better in the truck. The stem where the seat sits is too high making it unable to fit in the Malibu trunk
Reviewer:
julie h. from lincoln, ca (caregiver)
User Details:
My father who has upper and lower spine disability that makes him unstable on his feet.
Overall an exceptional scooter
05/12/2012
Strengths:
High quality well designed and built. Very comfortable. The underseat basket is great!
Weaknesses:
The backlit power guage is bright at night and causes night-blindness. It would be nice to adjust this light. A headlight would also help using this scooter at night. The armrest adjustment knobs loosen automatically. I wrapped electical tape arount the arm to allow the knob to be held in place. A better connection for the armrest arms would be appreciated.
Reviewer:
richard p. from yuma, az
User Details:
Not provided